Monday, October 23, 2000,
Chandigarh, India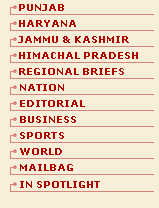 C A L E N D A R
Monday, October 23, 2000
Vikrama Samvat
2057
Kartika
8
Shaka Samvat
1922
Kartika
1
Hijri
1421
Rajab
24
Kartika Krishna Paksha Ekadashi upto 6.40 p.m.
The eleventh lunar day of the dark half of Kartika.
Magha Nakshatra upto 9.40 a.m.
Sayana sun enters Scorpio at 8.25 a.m.
Retrograde Mercury enters Swati at 3.00 p.m.
(October, 24)
The sun enters Swati at 9.00 p.m.
Mercury runs into combustion at 3.10 a.m.
Hemant season begins
Rama Ekadashi
Govatsa Dwadashi brata (Dwadashi at nightfall only is admissible for observing fast).