Monday, October 23, 2000,
Chandigarh, India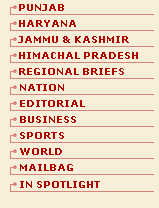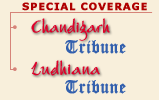 S P O T L I G H T
Hooch claims 18 lives in Kerala
THIRUVANANTHAPURAM, Oct 22 (UNI) — At least 18 persons, including a woman, died and over 100 had to be hospitalised, in two separate hooch tragedies in Kollam district of Kerala in the last 24 hours. In the first incident 13 persons had died and 105 others were admitted to the medical college hospital here. In the other incident in the same district today, five persons died after they allegedly consumed illicit liquor.
3 die in Karachi blast
KARACHI, Oct 22 (Reuters) — At least three persons were killed and 18 wounded when a grenade was thrown into a rally of an Islamic militant group in Karachi today, the Pakistani police and hospital sources said. The grenade landed among thousands of people at a rally in the port city called by Lashkar-e-Toiba, one of the main groups fighting Indian rule in Kashmir.