Monday, October 23, 2000,
Chandigarh, India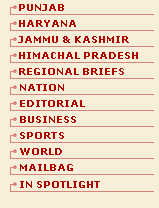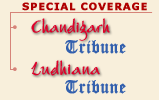 P U N J A B
10 pilgrims of UP die in Sirhind mishap
FATEHGARH SAHIB, Oct 22 — Nine persons died on the spot and one succumbed to his injuries later in a Tata Sumo-trailer accident at Madhopur Chowk on the GT Road in Sirhind late last night.
Ranjit Sagar Dam=II
Dam work may go to Irrigation Dept
SHAHPUR KANDI, Oct 22 — Due to the high cost of construction being projected by private parties, the Punjab Government may not invite global tenders for a dam required for power generation from the Ravi. Instead, the Irrigation Department engineers who built the Ranjit Sagar Dam are likely to be asked to do the job.
Punjab Govt hikes hospital charges
BATHINDA, Oct 22 — The cash-strapped Punjab Government seems to have started filling its coffers by making the sick to pay through their nose for getting treatment in government hospitals.
Govt obtains paddy procurement records
FARIDKOT, Oct 22 — The Punjab Government has obtained the entire records of the paddy procured below the minimum support price from September 21 to October 14 to pay adequate compensation to farmers in the state.
BJP to ask SAD to reduce power tariff
HOSHIARPUR, Oct 22 — The state unit of the BJP will try to persuade SAD, its partner in the Punjab Government, to decrease the recent power tariff hike to give relief to the common man, who is badly affected by it. This was stated by Prof Brij Lal Rinwa, president of the Punjab unit of the BJP while talking to mediapersons at the local Rest House here today.
Ranjit Sagar Dam awaits PM's touch
October 22, 2000
Punjab to have biotechnology park
October 21, 2000
PSEB may change plant boilers
October 20, 2000
Farmers happy over Centre's package
October 19, 2000
SAD to back BJP in Mayor's poll
October 18, 2000
Auction of paddy picks up
October 17, 2000
Cong not to move confidence motion
October 16, 2000
Trains cancelled yet again
October 15, 2000
Licences of 10 arhtiyas suspended
October 14, 2000
Paddy damage 64.4 pc : PAU
October 13, 2000
Jagir Kaur awaiting Badal's nod?
October 12, 2000