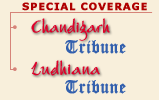 Body of Al Faran hostage exhumed
SRINAGAR, Oct 25 — The five-year-old Al Faran hostage crisis has taken a new turn with a body, reportedly belonging to one of the four missing nationals of Britain, USA and Germany being exhumed from a grave at Dooru in south Kashmir on the disclosure of two arrested militants.
Bahuguna, wife attacked
TEHRI GARHWAL, Oct 25 — Noted environmentalist and "chipko" movement leader, Sunder Lal Bahuguna and his wife suffered serious injuries when they were attacked by a mentally deranged person here today.
SHO thrown into pond by farmers
MOGA, Oct 25— Assistant police sub-inspector Mangat Singh was seriously injured and an SHO dragged out of his official vehicle and thrown into a nearby pond and the windowpanes his vehicle smashed by irrate farmers blocking traffic on the Moga-Ludhiana road this evening.
CBI names 7 foreign cricketers
NEW DELHI, Oct 25 — A Pakistani, three Australians, two West Indians and one English player are among the foreign cricketers named by bookies in the report on match-fixing to be submitted by the CBI to the government early next week
In Science Tribune today
THE TRIBUNE MAGAZINES
On Mondays


On Sundays

On Saturdays

Indian filmmaker bags global awards
NEW DELHI, Oct 25 — Well-known wildlife film-maker Mike H. Pandey, who won the Panda Award also known as the Green Oscar for his film "Shores of Silence — Whale Sharks in India" earlier this month, has added another feather to his cap by winning two more global awards.


Russian military plane crashes, 75 killed
TBILISI, Oct 25— All 75 persons aboard a Russian military plane died today when their Soviet-era propeller-driven craft crashed into a mountain in Caucasus Republic of Georgia, senior regional officials said.



Farmers selling paddy on millers' terms
KHANNA (Ludhiana), Oct 25 —The festival of lights, has failed to arouse the usual enthusiasm amongst farmers of the state, who remain disgruntled. With government agencies refusing to lift the produce on account of it being of 'poor quality', the farmers are selling their produce at throwaway prices to private millers incurring huge losses to get some remuneration for their labour to celebrate Divali.
EARLIER STORIES
(links open in a new window)
Rajnath to replace Gupta as
Uttar Pradesh CM
October 25, 2000
ULFA militants massacre 15
October 24, 2000
Advani rules out talks on J&K
October 23, 2000
2 BSF jawans die as IED explodes
October 22, 2000
Power panels must for incentives
October 21, 2000
17 militants killed in J&K
October 20, 2000
12 top militants surrender
October 19, 2000
Israel, Palestine agree to end violence
October 18, 2000
5 Pak soldiers shot, attack repulsed
October 17, 2000
350-cr relief for Punjab
October 16, 2000