Thursday, October 26, 2000,
Chandigarh, India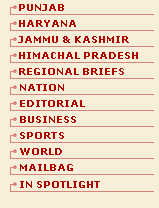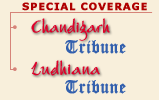 H A R Y A N A
FCI-miller standoff on sale points
FATEHABAD, Oct 25 — The refusal by the Food Corporation of India to take delivery of custom-milled rice from the paddy procured by the state government procurement agencies, at Rattia and Fatehabad in this district has put rice millers and the authorities in a spot.
CM promises power for rabi sowing
SONEPAT, Oct 25 — The Haryana Government has taken a series of measures to provide adequate power for running tubewells and canal water for sowings the rabi crop.
Plan to increase storage capacity
CHANDIGARH, Oct 25 — A plan is being down up by the Food and Supplies Department of Haryana to build new storage areas.
End corruption, Governor tells officers
PANIPAT, Oct 25 — Reviewing work of different departments in Panipat district last evening, Governor of Haryana Babu Parmanand called upon the district officers to redress grievances of the masses with dedication, honesty and fearness.
Dark Divali for aided colleges' staff
CHANDIGARH, Oct 25 — For the teaching and non-teaching staff of government-aided colleges in Haryana, it will be a dark Divali tomorrow. They have not been paid their salaries for the past two months.
NEWS ANALYSIS
Haryana BJP in catch-22
CHANDIGARH, Oct 25 — The Haryana BJP today finds itself in the proverbial situation of being caught between the devil and the deep sea.
Transfer of officials on census duty to be banned
CHANDIGARH, Oct 25 — A meeting of the high-level State Coordination Committee on Census 2001 in Haryana was held here today under the chairmanship of the Chief Secretary, Mr Vishnu Bhagwan, to take stock of the progress made for the smooth conduct of the census from February 9 to 28.
Panchayats get more fiscal powers
October 25, 2000
Recruitments leave politicians sulking
October 24, 2000
College staff flay autonomy move
October 23, 2000
Demonstration by MUL employees
October 22, 2000
Paddy: Haryana awaits report
October 21, 2000
Miners rule protected forest area
October 20, 2000
MUL complex political battleground
October 19, 2000
Dalal blames Chautala for inaction
October 18, 2000
Plan for elderly criticised
October 17, 2000
Official suspended for delaying action
October 16, 2000