Thursday, October 26, 2000,
Chandigarh, India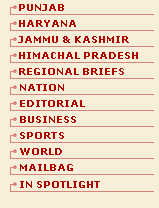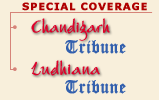 S P O T L I G H T
Rupee dips to new low
MUMBAI, Oct 25 (UNI) — The rupee tumbled to record low today at Rs 46.64/66 per dollar, shedding a whopping 21 paise over yesterday's close at a volatile interbank foreign exchange market on all-round heavy demand of greenback, apprehensions over global oil prices and deceleration in foreign funds inflows.
Envoy recalled
NEW DELHI, Oct 25 (UNI) — In the first-ever incident of its kind, an Ambassador has been recalled and kept on "compulsory waiting" at the Ministry of External Affairs headquarters pending an inquiry against him. India's Ambassador to Austria Yogesh Mohan Tiwari has handed over charge to his number two in Vienna and returned to Delhi following certain allegations made against him. A Ministry of External Affairs spokesman, while not elaborating on the kind of allegations made against the Ambassador, said it was a normal administrative practice to keep the officer on "compulsory waiting" in such cases.