Thursday, October 26, 2000,
Chandigarh, India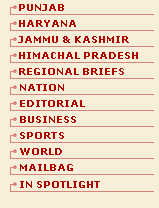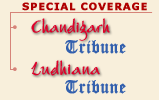 L U D H I A N A
Racket in sale of women unearthed
KHANNA/ PAYAL, Oct 25 — The arrest of a couple from Jarkhar village, near Khanna, has unearthed a thriving racket in the sale of women from West Bengal to middle-aged men in this region.
Family "beaten up, robbed by police"
FATEHGARH SAHIB, Oct 25 — Mr Manmohan Singh, a resident of Bassi Pathana, in a complaint to the SSP has alleged that last night at about 1.30 am seven to eight persons allegedly in police commando uniforms entered his house and beat up his wife and daughter and took away jewellery they were wearing.
IMA House dispute ends
LUDHIANA, Oct 25 — The long-drawn battle over the possession of the Indian Medical Association building has finally been resolved with the building having been handed over to the IMA on October 16. The building was so far being used as a marriage palace.
Census officers hold meeting
LUDHIANA, Oct 25 — A district-level conference- cum-training of Census Officers was held here, yesterday, in which Mr Inderjit Singh, Director Census Operations, Punjab, Mr S.K. Sandhu, Deputy Commissioner, Ludhiana, Mr Sukhbir Singh Sandhu, Commissioner, Municipal Corporation, Ludhiana, Mr S.R. Kaler, Additional Deputy Commissioner, Mr Dalip Kumar, Additional Commissioner, Municipal Corporation, all SDMs, Tehsildars, BDOs, Naib-Tehsildars, master trainers, etc participated.
Dalit youth's death due to police torture alleged
October 25, 2000
PAU team flouts rules
October 24, 2000
PAU campus school Principal shifted
October 23, 2000
Police takes no action despite HC orders
October 22, 2000
Protect rights of disabled: Governor
October 21, 2000
Addl Director, PSHSC, sent to jail in medical scam
October 20, 2000
Cricket betting halts, Divali gambling picks up
October 19, 2000
Mend ways or face action
October 18, 2000
Deaths not related to paddy issue: Admn
October 17, 2000
Case registered against DSP
October 16, 2000