IN PASSING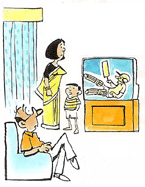 Indian cricket needs the services of Dr Ranawat to make it stand on its legs!

PM's 'vision-of-India' drive on
NEW DELHI, Oct 30 — Prime Minister Atal Behari Vajpayee has set in motion a mega exercise of building an India of his vision in a time frame of 10-15 years.
One more held in Kanishka case
VANCOUVER, (British Columbia), Oct 30 — The Canadian authorities have arrested a third suspect in the 1985 bombing of an Air-India jet, the deadliest-ever bombing of an airplane, officials said.
8 ISI men held, RDX seized
NEW DELHI, Oct 30 — The Delhi Police today claimed to have exposed a narco-terrorism gameplan of Pakistan's Inter-Services Intelligence (ISI) with the arrest of eight ultras and seizure of 50 kg of high-grade heroin, 15 kg RDX and explosive devices.
SAD men may oppose Bibi's name
AMRITSAR, Oct 30 — Even as Mr Parkash Singh Badal, President, Shiromani Akali Dal, has announced that the Political Affairs Committee (PAC) of the party would decide on the candidature of the next president of the SGPC, some members of the committee (PAC) are likely to oppose the name of Bibi Jagir Kaur for contesting the election, which has to be held before November 30.
EARLIER STORIES
(links open in a new window)
Jitendra Prasada dares
Sonia Gandhi
October 30, 2000
12 Pak soldiers killed,
20 injured
October 29, 2000
Jyoti Basu to quit on Nov 7
October 28, 2000
Rajnath invited to form govt
October 26, 2000
Rajnath to replace Gupta as
Uttar Pradesh CM
October 25, 2000
ULFA militants massacre 15
October 24, 2000
Advani rules out talks on J&K
October 23, 2000
2 BSF jawans die as IED explodes
October 22, 2000
Power panels must for incentives
October 21, 2000
17 militants killed in J&K
October 20, 2000