IN PASSING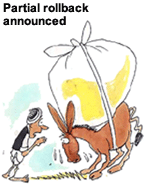 What made you think that the rollback is meant to lighten your burden?

Hinduja brothers question CBI charge sheet
NEW DELHI, Nov 20 — The three Hinduja brothers today raised a series of objections to the charge sheet filed against them by the CBI in the Rs 64 crore Bofors case saying that there was "no sufficient ground" to proceed against them in the case.
CBI summons Bibi again
NEW DELHI, Nov 20 — SGPC President Bibi Jagir Kaur, prime accused in the murder of her daughter Harpreet Kaur, has been summoned again by the CBI.
BSF delegation in Lahore
Spectacle of cordiality at meeting
WAGAH (Amritsar), Nov 20 — The four-day biannual meeting of the Border Security Force and Pakistan Rangers got under way at Lahore today. A 10-member Indian delegation led by the IG, Mr Avtar Singh Aulakh, was welcomed by his counterpart, Brig Mohamad Ahsan, from Pakistan Rangers with great warmth and playing of Bollywood film tunes on the Pakistani side of the international border.
Water-table depletion alarming
GURGAON, Nov 20 — In a development which will grate on the sensibilities of those who wish to settle in Gurgaon city and scare the potential investors, the Central Ground Water Authority (CGWA), a body of the Central Ground Water Board (CGWB), has identified major parts of this city for declaring them as notified area on account of the alarming rate at which the ground water has declined.
No combat operations during Ramzan
November 20, 2000
Shelling forces fresh migration
November 19, 2000
CBI interrogates Bibi
November 18, 2000
Centre's plan to nab Veerappan
November 17, 2000
Bibi gets bail
November 16, 2000
Marandi sworn in CM
November 15, 2000
CBI charges Jagir Kaur with daughter's killing
November 14, 2000
Militants clash with pilgrims
November 13, 2000
Tarar promises Sikhs facilities
November 12, 2000
Bush camp asks Gore to concede defeat
November 11, 2000
Bush has razor-thin lead
November 10, 2000