THE TRIBUNE MAGAZINES
On Mondays


On Sundays

On Saturdays

IN PASSING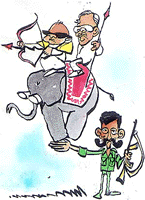 How long will you keep us hostage, Mr Veerappan?
Badungar in race for top SGPC post
AMRITSAR, Nov 22 — The re-baptisation of Mr Kirpal Singh Badungar, Secretary, Shiromani Akali Dal, and OSD to the Chief Minister, Mr Parkash Singh Badal, at Takht Sri Kesgarh Sahib today has given clear indications that the (Mr Badungar) has joined the race for the coveted post of SGPC chief.
Kamaljit's house 'under siege'
Bibi supporters threaten TV crew
BEGOWAL (Kapurthala), Nov 22 — Hundreds of supporters of the SGPC chief Bibi Jagir Kaur turned unruly and laid a siege to the house of Kamaljit Singh here when a Delhi-based TV crew went to shoot a film on the Harpreet Kaur death episode this evening.
Bibi's deposition 'inconsistent'
NEW DELHI, Nov 22 — The CBI decided to interrogate SGPC chief Bibi Jagir Kaur for the second time within a week of her deposition in view of inconsistencies in her statement with the facts which have emerged during investigations into her daughter Harpreet Kaur's murder case, agency sources said today.
15 stranded at Battal; Leh highway closed
SHIMLA, Nov 22 — At least 15 persons were stranded at Battal near the Kunzum Pass which got closed today due to snowfall.



Madhu to move application
Says Ruchika case is 'still maintainable'
CHANDIGARH, Nov 22 — Mrs Madhu Anand Prakash, complainant in the Ruchika molestation case, in which the CBI has filed a charge sheet against the Haryana DGP, Mr S.P.S. Rathore, under Section 354, IPC, in the court of the Special Magistrate, Ambala, Mr A.K. Tyagi plans to move an application before the court urging it that she should also be impleaded in the case.
SC rejects Delhi Govt's plea
November 22, 2000
RAF deployed in Delhi
November 21, 2000
No combat operations during Ramzan
November 20, 2000
Shelling forces fresh migration
November 19, 2000
CBI interrogates Bibi
November 18, 2000
Centre's plan to nab Veerappan
November 17, 2000
Bibi gets bail
November 16, 2000
Marandi sworn in CM
November 15, 2000
CBI charges Jagir Kaur with daughter's killing
November 14, 2000
Militants clash with pilgrims
November 13, 2000