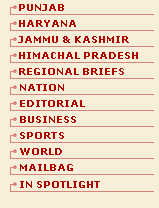 Saturday, November 25, 2000, Chandigarh, India
Updated at 3 am (IST)
Bibi fails to convince CBI
To be interrogated again next week
NEW DELHI, Nov 24—The President of the SGPC, Bibi Jagir Kaur, who appeared before the CBI for interrogation for the second time today, failed to satisfy the queries posed to her by the investigating officials, agency sources said.
Does not rule out fighting poll
NEW DELHI, Nov 24 — The SGPC President, Bibi Jagir Kaur, today did not rule out the possibility of her standing in the commitee's poll scheduled for next week.
CAST YOUR VOTE
Is the government right in disinvesting in Maruti Udyog Limited?