THE TRIBUNE MAGAZINES
On Mondays


On Sundays

On Saturdays

Families reject compensation
CCDP to approach SC
AMRITSAR, Dec 13 — The Committee for Coordination on Disappearances in Punjab has decided to challenge the award of Rs 1 lakh by the National Human Rights Commission to each of the families of 18 militants' killed in police encounters.
IN PASSING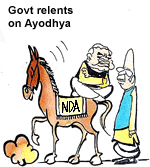 ... another rollback, Advaniji?

Film producer Rizvi held
MUMBAI, Dec 13 — The police today claimed to have unravelled a nexus of the underworld with filmdom with the arrest of film producer Nazim Hassan Rizvi for entering into a criminal conspiracy with underworld don Chhota Shakeel to eliminate prominent Hindi movie personalities, including filmmaker Rakesh Roshan.
SGPC to send jathas to Pak
Executive revokes Bibi's decisions
AMRITSAR, Dec 13 — Withdrawing the 21-month-old boycott, the SGPC executive today decided to send jathas to Pakistan from Baisakhi next year.



Geelani, Lone supporters clash
JAMMU, Dec 13 — The Chairman All-Party Hurriyat Conference, Prof Abdul Gani Bhat, has taken up the task of mediating between the warring groups in the APHC. Though he asserted that there were no differences in the conglomerate, he, however, condemned what he called "rowdyism" in and around the APHC headquarters on two occasions in recent days.
Govt relents on Ayodhya
December 13, 2000
Discussion under Rule 184 rejected
December 12, 2000
Sharif, family exiled to Saudi Arabia
December 11, 2000
Govt ready to discuss issue under Rule 184
December 10, 2000
Allies want PM to withdraw remark
December 9, 2000
Turmoil in Houses over PM's remark
December 8, 2000
3 ministers not to resign: Vajpayee
December 7, 2000
DGP Rathore in the dock
December 6, 2000
Mamata resigns, Vajpayee declines
December 5, 2000
4 more bodies extricated
December 4, 2000