THE TRIBUNE MAGAZINES
On Mondays


On Sundays

On Saturdays

Rocket attack on Army camp, 3 hurt
SRINAGAR, Dec 15 — Militants gunned down two civilians, launched a rocket attack on an Army camp injuring three jawans and triggered grenade explosions wounding two security personnel in Jammu and Kashmir since last evening.

Rizvi admits to mafia links
MUMBAI, Dec 15 — Nazim Rizvi, producer of the film "Chori Chori Chupke Chupke", arrested for his alleged nexus with the mafia "has confessed being in touch with underworld don Chhota Shakeel", the Joint Commissioner of the Mumbai police, Mr D. Sivanandan, said today.
Film financier questioned
MUMBAI, Dec 15 — Leading diamond merchant and film financier Bharat Shah was today questioned by Crime Branch sleuths in connection with the underworld-film industry nexus. (Nation page)

IN PASSING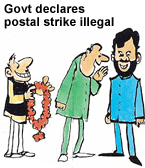 Sir, the representative of the Courier Union wants to honour you for your great contribution in the field of communication!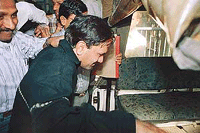 Nazim Hassan Rizvi, producer of "Chori Chori Chupke Chupke," after being produced before a Mumbai court on Thursday.
— PTI photo
Lawyer gets 6-month jail for contempt
NEW DELHI, Dec 15 — A two-judge Bench of the Supreme Court today convicted a Chennai-based lawyer, S. K. Sundaram, for gross criminal contempt of court and sentenced him to 6 months' imprisonment.
India agrees to meeting of SAARC ministers
NEW DELHI, Dec 15 — India today agreed to consider a Sri Lankan request for a meeting of the Foreign Ministers of the South Asian Association for Regional Cooperation after three months during which the technical committees of the Association would prepare the agenda.



A Tribune Investigation
Engg colleges opened sans facilities
KARNAL, Dec 15 — Lack of infrastructural facilities is the bane of majority of newly opened engineering colleges in Haryana. There are no proper and fully equipped libraries, laboratories and workshops in many of the colleges.
Cong censure motion defeated
December 15, 2000
Bush emerges winner
December 14, 2000
Govt relents on Ayodhya
December 13, 2000
Discussion under Rule 184 rejected
December 12, 2000
Sharif, family exiled to Saudi Arabia
December 11, 2000
Govt ready to discuss issue under Rule 184
December 10, 2000
Allies want PM to withdraw remark
December 9, 2000
Turmoil in Houses over PM's remark
December 8, 2000
3 ministers not to resign: Vajpayee
December 7, 2000
DGP Rathore in the dock
December 6, 2000
Mamata resigns, Vajpayee declines
December 5, 2000