EARLIER COLUMNS
Metros bursting at the seams
December 9, 2000

Going for Ganga darshan
December 2, 2000

To be among celebrities
November 25, 2000

The dawn chorus at Santiniketan
November 18, 2000

A priceless Divali gift
November 11, 2000

Making documentaries is her forte
November 4, 2000

The Indo-Malaysian connection
October 28, 2000

Lessons terrorism taught us
October 21, 2000

Blood-letting in Punjab
October 14, 2000
Translating the Japji Sahib
October 7, 2000
Indian concept of beauty
September 30, 2000
To forgive and forget
September 23, 2000
Memoirs of Vijaya Lakshmi Pandit
September 9, 2000
Times are out of joint
September 2, 2000
His voice is immortal
August 26, 2000
No end to hostility
August 19,2000
Visit to a once peaceful metropolis
August 12, 2000
The most abominable crime
August 5, 2000
Unveiling Indian women
July 29, 2000
A spiritually incorrect mystic
July 22, 2000
India without Pilot
July 15, 2000

Puran Singh, born in 1904, was the son of a Hindu father whose second wife or mistress, Mehtab Kaur, was a Sikh. His step brothers refused to accept their Khatri father's liaison with a Jat Sikh woman. Under the influence of his mother, the boy turned from Ramji Das to Puran Singh. He spent his adolescent years in Lahore, dividing his time serving in the city's main gurdwara, borrowing books from different libraries and reading them in his spare time. The main influences in his life were Florence Nightingale, Mahatma Hans Raj of the Arya Samaj and Mahatma Gandhi. He took to nursing sick beggars and wearing khadi. When Partition riots broke out, he barely escaped with his life and trudged barefoot carrying a cripple on his back across the border to Amritsar. It was in Amritsar that he decided to devote the rest of his life to the sick and uncared. He had no money to build a hospital or procure medicines. His hospital comprised a few charpoys in the shade of a tree. Every morning he sat outside the entrance of the Golden Temple with a begging bowl. With what he got, he bought food and medicines for his patients. He rented a haveli. Some people volunteered to help him. So began his Pingalwara for the sick and the destitute. He had black tin boxes, with slits on their covers and the simple word Pingalwara written on them, put up in different parts of the city. People began to put money in the boxes. When he came to be better known, people made donations on the occasion of weddings in their families or in memory of their loved ones. Sewa was Puran Singh's bhakti and he came to be known as Bhagat Puran Singh.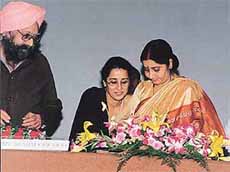 Puran Singh did not go in for religious ritual but imbibed the essentials of religion. He did not discriminate between those who came to him for help: Manas kee jaat sab ek hee pahchaantoo (regard all mankind as of one caste, Guru Gobind Singh had exhorted his followers). To Bhagat Puran Singh's Pingalwara came Hindus, Sikhs and Muslims for shelter and treatment. He subscribed to the creed that service to the suffering was the greatest form of prayer: Bin sewa dhrig hath payr, hore nehphal karni (fie the hands and the feet that are not used in the service of others, every other activity is fruitless).
At long last the Punjab Government became conscious of Puran Singh's existence. The Pingalwara was given a grant and Puran Singh honoured with a Padma Bhushan. He returned it as a protest against Operation Bluestar.
I took advantage of Sushma Swaraj's presence at the launch of Reema Anand's His Sacred Burden and asked her to try out all the channels of her TV set. Every third is devoted to broadcasting sermons by sadhus, sadhvis, swamis, godmen, pracharaks — the lot. Hour after hour, they go on telling us about the soul, spiritual life, meditation, truth, love, tales from the Puranas and lives of saints. They draw large audiences. It is talk, talk and more talk. They echo the ethos of our people: we have become a nation of talkers and not doers. There are hundred of men and women scattered in remote parts of our country who like Bhagatji devote their lives to the service of the poor, illiterate and the disabled. If their lives were depicted on our TV channels, we might turn from a nation of sermoners to a nation of doers.
Ancient wisdom
Murli Manohar Joshi, Minister of Education et cetera, is by no means the first or the only Indian who maintains that our ancestors had knowledge of everything worth knowing — aeroplanes, teleprinters, wireless, telegraphy, nuclear energy — you name it, they knew it. Westerners stole such knowledge from India and falsely laid claims to having discovered it. Dr Meghnad Saha (1894-1956) had to contend with this form of patriotism. Dilip Salwi in his recently published Folk Tales of Science (Rupa) gives one instance: "Saha once met a lawyer in Dhaka. By this time, Saha had already become internationally famous for his contributions to astrophysics. The lawyer became curious to know what exactly were his contributions to science.
"That was Saha's favourite subject and he told him in detail about his work on the composition of stars. But the lawyer was not impressed. Every other moment he interrupted Saha to add, 'But, Prof Saha, this is nothing new. We have all these in the Vedas'.
"Eventually, Saha's fuse blew. He asked, 'Would you please be kind enough to tell me exactly in which parts of the Vedas do we find the thermal ionisation theory of stars?' But the lawyer was unmoved. He continued, 'Well, I haven't read the Vedas myself but it is my firm conviction that whatever you scientists claim as a new scientific discovery is all contained in the Vedas!'"
Our scientists observed high standards of rectitude. Sir C.V. Raman (1888-1970) was looking for a suitable person for the post of scientific assistant for his institute. He found one applicant who was found unsuitable for the post, still waiting outside the interview room.
Raman approached him and asked sharply, "What are you doing here? I told you, we cannot take you in! Why do you linger here?"
"Sir, I know that, but I've come back to return the excess travelling allowance paid to me by mistake by your office...." the applicant stuttered.
"Oh, is it?" said Raman, surprised, keeping his hand on the applicant's shoulder, and taking him to his office, "Come in, you have been selected for the post! It matters not if your physics is inadequate. I can teach you that. You're a man of character. That's important to me!"
They were well-rounded personalities with interest in poetry, music and nature. One such was Shanti Swaroop Bhatnagar (1899-1955) who set up a chain of national laboratories across the country. While in Varanasi he also composed the university anthem, Kulgeet. He was an indefatigable worker. Meghnad Saha converted his initials S.S. to 'Steam Ship Bhatnagar'.
Salwi's compilation has the merit of conveying valuable information about the works of eminent scientists and making it palatable by drawing the readers' attention to their foibles and oddities. My favourite is the first in the anthology, about Louis Agassiz: "The Swiss-American naturalist Louis Agassiz (1807-1873) was such a popular figure in his hometown of Neuchatel, Switzerland, that he was regularly invited to give lectures on geology. Once when he regretted his inability to give a popular science lecture, the organiser assured him that he would be paid for his lecture. In anger, Agassiz replied, 'That is no inducement to me. I cannot afford to waste my time in making money'".
Positive solution
Laloo Yadav to his wife: "Rabri ji, I have found a solution to the Kashmir problem."
Rabri Devi: "That's wonderful; what is it?"
Laloo:"I will tell General Musharraf if you buy Kashmir, you will get a tooth brush, a tube of tooth-paste as well as Bihar free of charge.
Musharraf: "I don't want Kashmir with those conditions attached."
(Contributed by J.P. Singh Kaka, Bhopal)