THE TRIBUNE MAGAZINES
On Mondays


On Sundays

On Saturdays

Quattrochhi held, bailed out
Extradition process to begin
NEW DELHI, Dec 20 — The Central Bureau of Investigation today achieved a major breakthrough in the investigations into the 14-year old Bofors payoffs scandal with the arrest of key accused and Italian businessman Ottavio Quattrochhi by Malaysian authorities in Kuala Lumpur.
SGPC-clergy showdown certain
Clarification sought on Puran Singh
AMRITSAR, Dec 20 — In a strategic move, the four Sikh high priests, who have postponed their meeting indefinitely due to lack of quorum, sought a clarification from Mr Jagdev Singh Talwandi and the SGPC executive on the 'non-participation' of Giani Puran Singh in the meeting of Sikh clergy.
IN PASSING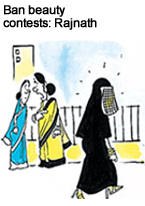 She may be Priyanka Chopra going to Bareilly!

Salary of 489 SGPC men withheld
AMRITSAR, Dec 20 — The Sikh Gurdwara Judicial Commission today withheld payment of salaries to as many as 489 SGPC employees.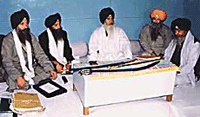 The Sikh High Priests hold a meeting at the Sri Akal Takht Secretariat in Amritsar on Wednesday. — Photo by Vishal
Sikh intelligentia wants proper depiction of history
NEW DELHI, Dec 20 — Prominent members of the Sikh community in the capital welcomed the internationally acclaimed Smithsonian Institution's decision to set up a Sikh heritage museum in Washington.



Widowers, beware of marriage
KHANNA, Dec 20 — Beware of a marriage offer if it comes voluntarily from a middle-aged looking woman. It may eventually turn out to be a trap to play a fraud on you.At least 50 persons have been taken for a ride by a woman identified as Harbans Kaur. The woman is heading a gang of unspecified number of men and women.
NDA suffers first defeat
December 20, 2000
TDP threatens to withdraw support
December 19, 2000
Involve Pak in talks: APHC
December 18, 2000
2 jawans die in suicide attack
December 17, 2000
BJP gets tough with allies
December 16, 2000
Cong censure motion defeated
December 15, 2000
Bush emerges winner
December 14, 2000
Govt relents on Ayodhya
December 13, 2000
Discussion under Rule 184 rejected
December 12, 2000
Sharif, family exiled to Saudi Arabia
December 11, 2000
Govt ready to discuss issue under Rule 184
December 10, 2000