Sports page: Anand is world champion
TEHRAN, Dec 24 — Grandmaster Viswanathan Anand became India's first chess world champion by beating an extremely tired and desperate Alexei Shirov for the third time in a row and closing the six-game match of the FIDE World Chess Championships in the fourth game today.

Saini joins Badal ministry
CHANDIGARH, Dec 24— Mr Satya Pal Saini, a BJP member of the Punjab Vidhan Sabha, was sworn in as Minister of State by the Governor, Lt-Gen J.F.R. Jacob (retd), at a simple ceremony at Raj Bhavan here today.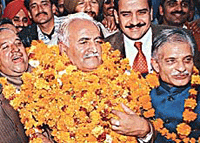 The BJP MLA, Mr Satya Pal Saini, who was inducted as Minister of State in the Punjab Council of Ministers, flanked by his supporters at Raj Bhavan in Chandigarh on Sunday.
— A Tribune photograph
8 Golden Forest directors held
JALANDHAR, Dec 24 — In a major crackdown on the alleged dupers of public money, the Punjab Police Vigilance Bureau has arrested eight directors of the Golden Forest group of companies today.
THE TRIBUNE MAGAZINES
On Mondays


On Sundays

On Saturdays

No takers for RS seat?
Chandigarh, Dec 24 — The former Prime Minister, Mr I.K. Gujral is "not interested" in contesting the Rajya Sabha seat from Punjab vacated by a Jalandhar daily editor, Dr Barjinder Singh Hamdard.
No headway in plane hijack case
NEW DELHI, Dec 24 — The investigation into the hijacking of Indian Airlines IC-814 from Kathmandu on December 24, 1999, is yet to make a headway.
Father, son murdered for Rs 50 lakh
GURGAON, Dec 24 —The police has arrested four persons in connection with the kidnapping and murder of Devender Chopra and his son, Abhishek, both industrialists, for a ransom money of Rs 50 lakh.

Alarm bells ring as girl dies of polio
FATEHABAD, Dec 24 — The death of a two-year-old girl due to suspected polio here last evening has set the alarm bells ringing for the health authorities in this district. Though the authorities have yet not confirmed the death, the sources reveal that the poor girl died last evening.
It was a five-minute work of 2 militants
December 24, 2000
Ultras storm Army camp in Red Fort
December 23, 2000
Hurriyat team leaves for Pak on Jan 15
December 22, 2000
Ceasefire in J&K extended
December 21, 2000
NDA suffers first defeat
December 20, 2000
TDP threatens to withdraw support
December 19, 2000
Involve Pak in talks: APHC
December 18, 2000
2 jawans die in suicide attack
December 17, 2000
BJP gets tough with allies
December 16, 2000
Cong censure motion defeated
December 15, 2000
Bush emerges winner
December 14, 2000