Tuesday, December 26, 2000,
Chandigarh, India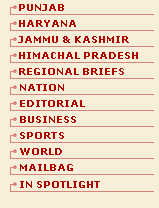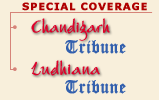 E D I T O R I A L P A G E
| | | |
| --- | --- | --- |
| | EDITORIALS | |
Mounting peace pressure
AN encouraging scenario is emerging in Kashmir. Every party directly affected by the crisis there has been making concessions ever since India announced the Ramzan ceasefire — now extended till Republic Day, January 26 — in its operations against militants.
Costlier power
A howl of protest is sure to erupt following the upward revision of power rates in Haryana. It always does. After all, who wants to pay more for anything than what he was doing a year or two ago? This indignation is reserved for the services provided by the government, not the consumer items whose prices go up every now and then.
No to ceasefire offer
There will be no Christmas-New Year ceasefire in Sri Lanka. The government has formally rejected the LTTE offer saying it prefers talks first and then a temporary stop to fighting. There is an additional condition. Negotiation should reach a reasonable level of seriousness before the cessation of hostilities. This has surprised everybody and has split the government.
Red Fort breached
December 25, 2000
Hijacking regulation of metabolism
December 24, 2000
Slap and Samba case
December 23, 2000
It's now R-Day ceasefire
December 22, 2000
A rotting scandal
December 21, 2000
Hell called Pak jails
December 20, 2000
Positive pointers
December 19, 2000
Reforms talk again
December 18, 2000
Global concern over children's plight
December 17, 2000
A ritual with meaning
December 16, 2000