Tuesday, December 26, 2000,
Chandigarh, India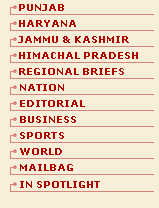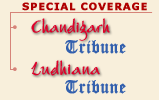 S P O T L I G H T
3 Pondicherry MLAs disqualified
PONDICHERRY, Dec 25 (PTI) — In a significant development that could help beleaguered Pondicherry Chief Minister P. Shanmugham to survive the crisis, three MLAs belonging to the ruling coalition who had withdrawn support to the ministry were tonight disqualified by the Assembly Speaker under the Anti-Defection Law. Speaker A.V. Subramanian told a press conference that he ordered the disqualification of S. Rathinam R. Manohar, K. Raisekara Odayar (Deputy Speaker) and A. Elumalai, belonging to the splinter group of the TMC.
Woman killed in stampede
KOTTAYAM, Dec 25 (PTI) — A woman was killed and 80 others were injured, 20 of them seriously, in a stampede at Lord Ayappa Temple at Sabrimala early this morning, the police said today. The mishap occurred when the iron barricade erected to control the pilgrims waiting in queue for darshan was broken in a stampede between Saramkuthi and Marakkoottam en route to Sannidhanam, the police said. In another incident, an 11-year-old boy hailing from Andhra Pradesh was drowned in the temple tank "bhasmakulam" this morning.
12 die of chickenpox
RAJKOT, Dec 25 (UNI) — At least 12 children had succumbed to chickenpox and almost every third child in the Shylbet island off Jafrabad in Amreli district was affected by the disease, according to reports received here today. There were also unconfirmed reports that the disease was acquiring an epidemic form in a few other villages of the island.