Tuesday, December 26, 2000,
Chandigarh, India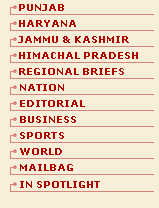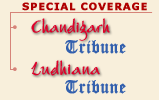 L U D H I A N A
Parcel mafia thrives at railway station
LUDHIANA, Dec 25 — Time 10 a.m. Date December 22. Mr Satyender Nath, a tailor working with a hosiery unit, comes to the railway station. He is looking quite happy as he recently purchased a second-hand Bajaj Chetak scooter. He is taking it to his far-flung village in Sitamarhi district of Bihar.
CBI probe into police torture case
KHAMANO, Dec 25 — The Punjab and Haryana High Court has ordered a CBI inquiry into the case of "illegal" detention of a youth, Harbhajan Singh of Gaggarwal village, by the police. During detention, he was handcuffed and his legs were tied. The inquiry is to be conducted against the then DSP of Khamano, Gurpreet Singh, an ASI, Malkit Singh, and a constable, Harbans Lal.
Ludhiana celebrates Xmas with Shweta
LUDHIANA, Dec 25 — It was a cold starlit night on the eve of Christmas in the sprawling lawns of the Lodhi Club. The dazzling and energetic performance by the glamour girl, Shweta Shetty, made the cold atmosphere gradually turn cosy.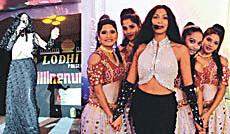 Shewta Shetty performs with her troupe in Ludhiana on Sunday evening. — Photo by Rajesh Bhambi

Land grabbing cases on rise
December 25, 2000
Minister accused of grabbing land
December 24, 2000
Unruly scenes at MC meeting
December 23, 2000
Bumper potato crop leaves farmers high and dry
December 22, 2000
Eviction suit against Lakshmi Ladies Club
December 21, 2000
GPO working hours extended to 8 pm
December 20, 2000
Traffic cops target 12 roads
December 19, 2000
Elderly couple robbed of jewellery, cash
December 18, 2000
Search on for Kalkat's successor
December 17, 2000
Beware... finance companies on the prowl
December 16, 2000