No extension to Mann, says Centre
Chandigarh, Dec 27 — The Union Government is understood to have turned down a proposal by the Punjab Government to grant extension to Mr R. S. Mann as Chief Secretary to the state government beyond January 31, 2001 when he is due to retire after attaining the age of superannuation.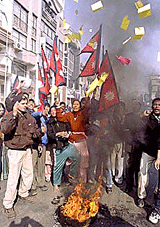 Students hurt in fresh protests in Nepal
kathmandu Dec 27 — Several students received bullet wounds today as violent student protests resumed here over anti-Nepal remarks allegedly made by Bollywood actor Hrithik Roshan.

Demonstrators burn tyres and spread pamphlets denouncing film actor Hrithik Roshan in the Nepalese capital of Kathmandu on Tuesday.
— Reuters photo
THE TRIBUNE MAGAZINES
On Mondays


On Sundays

On Saturdays

Water levels reach nadir, says BBMB
CHANDIGARH, Dec 27 — The Bhakra-Beas Management Board has sounded the alarm bell. It has asked the beneficiary states to exercise restrain in withdrawing their quota of water for irrigation as the water level in Gobindsagar has reached 1647.57 ft, the lowest in the past seven years.
Golden Forests CMD in Ropar jail
PANCHKULA, Dec 27 — Plainclothesmen of the Punjab Vigilance Department swooped down on the Chief Managing Director of Golden Forests India Limited, Mr R.K. Syal, and whisked him to an unknown destination, here today.
Aged parents will have to wait for dole
Himachal withdraws Bill on maintenance
SHIMLA, Dec 27 — The Himachal Government today withdrew the Bill for the maintenance of aged parents and also the one providing for the recovery of outstanding bank loans as arrears of land revenue.
Ultra behind Red Fort attack shot
December 27, 2000
Major breakthrough in Red Fort shootout
December 26, 2000
No headway in Red Fort case
December 25, 2000
It was a five-minute work of 2 militants
December 24, 2000
Ultras storm Army camp in Red Fort
December 23, 2000
Hurriyat team leaves for Pak on Jan 15
December 22, 2000
Ceasefire in J&K extended
December 21, 2000
NDA suffers first defeat
December 20, 2000
TDP threatens to withdraw support
December 19, 2000
Involve Pak in talks: APHC
December 18, 2000