THE TRIBUNE MAGAZINES
On Mondays

On Sundays
On Saturdays
R-Day militant plan foiled
SRINAGAR, Jan 15 — Three foreign militants of the Lashkar-e-Toiba were killed in an encounter with the police and security forces in Baramula yesterday. With this, the police claims to have foiled three major plans of militants to disrupt Republic-Day celebrations in the Kashmir valley during the past one week.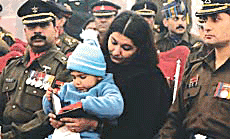 Ms Poonam Guleria, wife of late Capt Deepak Guleria, holds the Sena Medal which she received on behalf of her husband (posthumously) during the Army Day parade in New Delhi on Monday. — PTI photo

Ceasefire step 'insufficient'
NEW DELHI, Jan 15 — The All-Party Hurriyat Conference has said the ceasefire announced by the Prime Minister will not mean much unless it leads to a process for meaningful resolution of the Kashmir problem.
In Education Tribune today
IN PASSING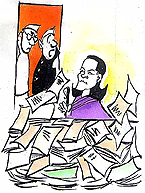 She is finalising the list of CWC members.

Heavy polling in Poonch, Rajouri
JAMMU, Jan 15 — In the first phase of the eight-phase panchayat election in Jammu and Kashmir, districts of Poonch and Rajouri witnessed heavy polling today. These elections are being held in the state after over 23 years.
Bandh over medicos' admission
JAMMU, Jan 15 — Normal life was paralysed today when people responded to the call for the Jammu bandh given by the ABVP and supported by several student and political organisations .
Prasada's chances of recovery 'very bleak'
NEW DELHI, Jan 15 — Senior Congress Leader Jitendra Prasada continued to be in critical condition with "very bleak" chances of recovery as there were no positive change in his condition, doctors attending on him said.


4 new districts for HP mooted
SHIMLA, Jan 15— The Chief Minister, Mr P.K. Dhumal, today indicated that four new districts might be created out of Shimla, Kangra and Mandi for better administration. He said a mini-secretariat with rooms for ministers would be constructed at Dharamsala.
Farooq escapes bid on life
January 15, 2001
Maghi turns into election mela
January 14, 2001
Army Chief favours J&K truce extension
January 13, 2001
APHC selects 5-man team to Pak
January 12, 2001
CM dissolves SAD front bodies
January 11, 2001
50 hurt as blasts rock Kashmir
January 10, 2001
Fog hits air, rail traffic
January 9, 2001
Patch-up efforts by George fail
January 8, 2001
Centre gives in to APHC demand
January 7, 2001
18 massacred in Bengal
January 6, 2001