End hostilities or face war: Farooq
NEW DELHI, Jan 17 — Jammu and Kashmir Chief Minister Farooq Abdullah today strongly condemned the "gun culture" of the Pakistan-backed militant groups and warned that if they did not desist from their dastardly acts, India would have no option but to wage a war against the hostile neighbour to destroy "militant training camps" run by them.


Police stations attacked in valley

Airport attack: 3 officials held

A paramilitary trooper wipes her tears during the wreath laying ceremony of four dead colleagues at a garrison at Humhama on the outskirts of Srinagar on Wednesday. — Reuters photo

In Science Tribune today
THE TRIBUNE MAGAZINES
On Mondays

On Sundays
On Saturdays
SC upholds HC verdict
Recruitment of cops in Haryana
CHANDIGARH, Jan 17 — The Supreme Court today upheld the decision of the Punjab and Haryana High Court in quashing the recruitment of 1,600-odd constables in the Haryana police made in July, 1995.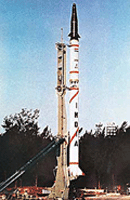 Agni-II test-fired
NEW DELHI, Jan 17 — India today successfully test-fired Agni-II, an intermediate range ballistic missile, from the Inner Wheel Island in the Bay of Bengal. Agni-II, having a range of over 2000 km, is the upgraded version of the missile. It was test-fired at 10.11 am during its final operational configuration.
A file photo of the Agni-II ballistic missile.
— Reuters photo
Hindujas to appear in court on Jan 19
NEW DELHI, Jan 17— The Hinduja brothers, accused in the Rs 64 crore Bofors pay-offs case, will appear before the CBI special court on January 19 to give their clarification on the charge sheet.
Shiv Sainiks 'demolish' mosque
LUDHIANA, Jan 17 —An ancient mosque was allegedly demolished by activists of the Shiv Sena in Dhaliwal town of Gurdaspur district on January 14.



Severe drought in Himachal
SHIMLA, Jan 17 — All 12 districts in Himachal Pradesh have been declared drought-hit and a loss of about Rs 300 crore to the current rabi crop and fruits has been assessed by the authorities.
Bid to storm Srinagar airport
January 17, 2001
SGPC to meet PM over Pak jathas
January 16, 2001
Farooq escapes bid on life
January 15, 2001
Maghi turns into election mela
January 14, 2001
Army Chief favours J&K truce extension
January 13, 2001
APHC selects 5-man team to Pak
January 12, 2001
CM dissolves SAD front bodies
January 11, 2001
50 hurt as blasts rock Kashmir
January 10, 2001
Fog hits air, rail traffic
January 9, 2001
Patch-up efforts by George fail
January 8, 2001
Centre gives in to APHC demand
January 7, 2001