THE TRIBUNE MAGAZINES
On Mondays

On Sundays
On Saturdays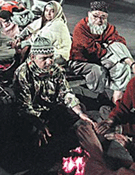 Fresh tremor rocks Gujarat
Over 30 panic-stricken persons injured
AHMEDABAD, Feb 9 — A fresh tremor has sent shock waves across the quake hit regions of Gujarat and in the ensuing panic at least 30 persons were injured.

Residents spend the night sitting on a footpath after a new tremor hit Ahmedabad on Thursday night. — Reuters photo
19 dead as bus rolls into gorge
SHIMLA, FEB 9 — As many as 19 persons were killed and 26 injured, five of them seriously, when a private bus rolled down a gorge near the Ghaghas bridge, about 11 km from Bilaspur today.
Sukhbir is SAD choice
AMRITSAR, FEB 9 — The Political Affairs Committee meeting of the ruling Shiromani Akali Dal has nominated Mr Sukhbir Singh Badal, son of the Chief Minister, for the Rajya Sabha seat which fell vacant after disqualification of Mr Barjinder Singh Hamdard.
To our readers
In Sports Tribune today
IN PASSING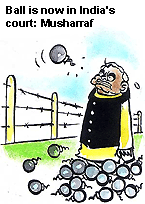 EC to send 2 observers to Majitha
NEW DELHI, Feb 9 — The Election Commission today decided to send two more central observers to Majitha, which is going to polls on February 19, even as it put a ban on District Social Security Staff from visiting the Assembly constituency for distribution of old age pension till the completion of polling process.
Rohtak boy sets eyes on White House
MINNEAPOLIS (MINNESOTA), FEB 9 — "Satveer Chaudhary", chairman, state transportation committee, was among a dozen signboards displayed on a row of cabins in the imposing building of the Minnesota state headquarters here.
Illicit distilleries in plenty
PANDHER (Majitha), FEB 9 — In gross violation of the model code of conduct, the ruling party has started a number of illicit distilleries in the countryside. Cartloads of jaggery that is used for the illicit distillation is being sent to the villages.




Illicit liquor being made near a vet dispensary in Majitha.— Photo by Rajiv Sharma
India conveys its concern to China
February 9, 2001
Curfew relaxed in Jammu
February 8, 2001
Cremation of youth passes off peacefully
February 7, 2001
1 killed in police firing
February 6, 2001
Rescue missions called off
February 5, 2001
Consensus on disaster management panel
February 4, 2001
Quake after-effects jolt Gujarat Govt
February 3, 2001
Operation clean-up begins
February 2, 2001
Relief distribution main problem
February 1, 2001
Fernandes puts quake toll at 1 lakh
January 31, 2001
PM announces Rs 500-cr relief
January 30, 2001