IN PASSING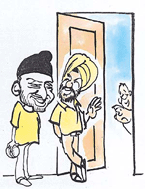 Harbhajan, some political leaders are keen to learn your bowling skills of outmanoeuvring the other side.

by Sandeep Joshi
SC to hear Balco case
All petitions transferred to apex court
New Delhi, April 9
The validity of the controversial decision of the Centre to sell its 51 per cent share in Bharat Aluminium Company to Sterlite Industries for Rs 551.5 crore will now be decided by the Supreme Court, which today transferred to itself all petitions on this issue pending before various high courts.
Farmers, Akalis in dilemma
Chandigarh, April 9
An observation of the Finance Minister, Capt Kanwaljit Singh, made in his March 19 Budget speech, not only found an echo in what the Financial Commissioner, Development, Mr C. L. Bains today told Chief Agricultural Officers (CAO) but also seems to be coming true.
A hamlet that doesn't want road
Progress is threat to drug peddling in Malana
Shimla, April 9
Having achieved fame in the narcotics world and with the Malana hydroelectric project coming up in the area, the mystic area around the landlocked village of Malana in Kulu district is fading away. Residents of the village are up in arms against their high quality charas growing hamlet being linked by road or the power project authorities extending the road beyond Jari which is about two hours away from there.
Yet another case against Verma
April 9, 2001

Karunakaran quits as CWC invitee
April 8, 2001

Conviction of Benazir, Zardari set aside
April 7, 2001
Govt invites Kashmiri militants for talks
April 6, 2001
CVC report on defence deals under study: MoD
April 5, 2001
Commuters torch 6 buses
April 4, 2001
Ousted CBEC head, son held, remanded
April 3, 2001
CBI begins scrutiny of scam papers
April 2, 2001
India at last lays quota regime to rest
April 1, 2001
SGPC for Pak corridor to Sikh shrine
March 31, 2001