IN PASSING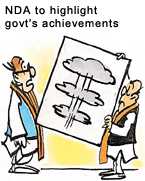 Don't show this one. This is the Tehelka explosion!

by Sandeep Joshi
Cop kills family, himself
Ludhiana, April 10
In a fit of madness, a Punjab police constable went on a shooting spree, killing five members of his family before shooting himself last night.
CEC warning to ministers on tours
New Delhi, April 10
The Chief Election Commissioner, Dr M.S. Gill, today warned the ministers in the states going to the assembly poll on May 10 against undertaking official tours or use their official vehicles for trips following the announcement of the poll schedule.
Working sans appointment
PTU staffers retained on verbal orders only
Jalandhar, April 10
Ever heard of an entire university staff being retained on verbal orders? Punjab Technical University in Jalandhar has this dubious distinction.


Government stops cremation of bodies
Forensic analysis likely; doctors to visit villages
Ferozepore, April 10
Mystery shrouds the discovery of decomposed bodies from the banks of the Sutlej near several villages along the Indo-Pakistan border. More than 50 bodies, including those of women and children, in a highly decomposed and mutilated condition were found during the past couple of days near Alike, Habibwala, Khundergatti and Kunde villages, sending a shock wave in the region.
In Health Tribune today
Vajpayee to convene all-party meeting
April 10, 2001
Yet another case against Verma
April 9, 2001

Karunakaran quits as CWC invitee
April 8, 2001

Conviction of Benazir, Zardari set aside
April 7, 2001
Govt invites Kashmiri militants for talks
April 6, 2001
CVC report on defence deals under study: MoD
April 5, 2001
Commuters torch 6 buses
April 4, 2001
Ousted CBEC head, son held, remanded
April 3, 2001
CBI begins scrutiny of scam papers
April 2, 2001
India at last lays quota regime to rest
April 1, 2001