IN PASSING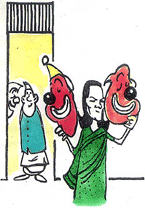 She is trying to keep every faction in good humour!

by Sandeep Joshi
Major fire in IOC pipeline
Ara, April 12
A sudden blaze resulting from leakage in the Barauni-Kanpur pipeline of Indian Oil Corporation Sikaria station, 72 km from Patna, was controlled in the afternoon.
I was arrested, says Zaffarwal
Amritsar, April 12
Khalistan Commando force Chief Wassan Singh Zaffarwal today denied that he had surrendered, saying that he had been arrested. Answering questions of mediapersons at the police officers' mess here, he claimed that he was not involved in any murder case but was here to live life like an ordinary citizen.
Wassan's family looks forward to reunion
Zaffarwal (Gurdaspur), April 12
This entire village has hailed the arrest of Khalistan Commando Force chief Wassan Singh Zaffarwal. His family members too are happy as they feel that now the day is not far off when he would join them after 16 long years.
An 'arrest' that was expected
Chandigarh, April 12
The arrest of the Khalistan Commando Force chief , Wassan Singh Zaffarwal, one of the most dreaded Sikh militants of the 80s, by the Majitha police at the Amritsar bus stand last evening was a foregone conclusion after The Tribune had broken the story from Amritsar on April 1 this year about the possibility of his surrender.
Police arrests Zaffarwal
April 12, 2001

Teheran Declaration signed
April 11, 2001

Vajpayee to convene all-party meeting
April 10, 2001
Yet another case against Verma
April 9, 2001

Karunakaran quits as CWC invitee
April 8, 2001

Conviction of Benazir, Zardari set aside
April 7, 2001
Govt invites Kashmiri militants for talks
April 6, 2001
CVC report on defence deals under study: MoD
April 5, 2001
Commuters torch 6 buses
April 4, 2001
Ousted CBEC head, son held, remanded
April 3, 2001