THE TRIBUNE MAGAZINES
On Mondays

On Sundays
On Saturdays
Uneasy calm in Kathmandu
Kathmandu, June 15
Contrary to police and public expectations, Kathmandu remained calm and peaceful a day after the two-member commission appointed to probe the Narayanity palace tragedy made its report public.
In Windows today
IN PASSING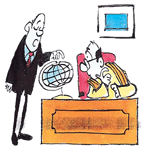 Sir, keeping in mind the number of ministers camping there, can we fix a Cabinet meeting in this country?

by Sandeep Joshi
SGPC orders high-level probe
Embezzlement of funds
Amritsar, June 15
The SGPC has ordered high-level probe into the alleged embezzlement of funds in the past. This was indicated by Mr Jagdev Singh Talwandi, President, SGPC, here today.
Punjab moves SC on Anandgarh
Chandigarh, June 15
Two separate special leave petitions have been filed in the Supreme Court praying to stay the operation and effect of the Punjab and Haryana High Court's judgement pertaining to "setting aside the notifications acquiring over 10,500 acres of land in 29 villages to develop a new township of Anandgarh".
A TRIBUNE INVESTIGATION
Chhat Bir zoo stinks of scandal
Unstamped beef from Saharanpur via Dera Bassi firm
Saharanpur, June 15
Buffalo meat, or beef, without the mandatory stamping of the veterinary doctors at government slaughter houses, is being reportedly supplied to the animals at Chhat Bir zoo.

The factory in Dera Bassi where Dee Pee Traders has given its address. In reality, nothing exists behind this wall and iron gate; and (right) buffaloes and calves tethered in Tabela Colony of Saharanpur before the beef suppliers purchase them for slaughtering. — Tribune photos Karam Singh and Manoj Mahajan
Dipendra was killer, says probe report
June 15, 2001
APHC: political activity not suspended
June 14, 2001
Mosque siege ends, all ultras shot
June 13, 2001
Giani Kewal Singh may quit
June 12, 2001
Hurriyat suspends 'people's movement'
June 11, 2001
Advani sees shift in Pak stand
June 10, 2001
5 devotees dead, 60 injured
June 9, 2001
Panel gets sweeping powers
June 8, 2001
Gyanendra spells out probe terms
June 7, 2001
Oppn leader quits probe panel
June 6, 2001
Four killed as riots break out in Nepal
June 5, 2001