THE TRIBUNE MAGAZINES
On Mondays

On Sundays
On Saturdays
President speaks to TN Governor
New Delhi, June 30
Even as AIADMK supremo and Tamil Nadu Chief Minister J. Jayalalitha sent the BJP-led NDA government into a tizzy by swooping on her arch rival and DMK chief M. Karunanidhi and arresting him in the wee hours of Saturday, President K. R. Narayanan spoke to Governor Fathima Beevi in the evening.
More ex-militants want to return
New Delhi, June 30
Even as both the Centre and the Punjab Governments continued to deny the existence of any deal or official involvement in the return of the two Punjab militants, Wassan Singh Zaffarwal and Jagjit Singh Chohan, highly placed intelligence sources said here that at least six others living abroad had also expressed their desire to return.
India, Pak under pressure
APHC leaders may have tea with Musharraf
Jammu, June 30
Decks are being cleared for a brief interaction between the Pakistani President, Gen Pervez Musharraf, and leaders of the All-Party Hurriyat Conference.
In Spectrum today
IN PASSING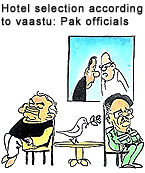 According to Vaastu, this is the best position!

by Sandeep Joshi
J&K's plea on special status rejected
New Delhi, June 30
The Planning Commission has turned down the request of Jammu and Kashmir and Assam to accord them special category status with retrospective effect from 1969.
A crorepati at 14
He was not born with the proverbial silver spoon in his mouth. Nor did he have any lucky charm or a fairy godmother to help him with a magic wand. Rather, it was his confidence in his ability to excel that made Ravi Mohan Saini a crorepati at the tender age of 14.




Three buried alive as building collapses
Amritsar, June 30
Three persons were buried alive in the debris when more than a 100-year-old building collapsed here today. The building located in Dharake Gali near Ghantaghar Chowk near Golden Temple collapsed at about 12.30 p.m. Two minor children and their mother were buried alive.

A multi-storey building that collapsed in Amritsar in which three persons died on the spot on Saturday. — Photo Rajiv Sharma
Flexibility, but no compromise on basics
June 30, 2001
Chohan's remarks unwarranted
June 29, 2001
Punjab caught on sticky wicket
June 28, 2001
Pak army drawing up agenda
June 27, 2001
Radicals to be detained
June 26, 2001
Massive shake-up in IT Dept
June 25, 2001
Amritsar bandh evokes mixed response
June 24, 2001
Musharraf to hold office for 5 years
June 23, 2001
President greets Musharraf
June 22, 2001

Musharraf appoints himself President
June 21, 2001
Indo-Pak summit from July 14
June 20, 2001