THE TRIBUNE MAGAZINES
On Mondays

On Sundays
On Saturdays
Musharraf ready for no war pact
New Delhi, July 4
Pakistani President Pervez Musharraf today said he was ready for a no war pact with India, going beyond New Delhi's offer of no first use of nuclear weapons. In an interview to Zee TV, General Musharraf said, "India has offered no first use of nuclear weapons. I am ready to go one step ahead... for a no war pact."

UTI Chairman's head rolls
Vassal is acting Chairman
New Delhi, July 4
The US-64 fiasco has claimed the head of the UTI Chairman with the government accepting its chief Mr P.S. Subramanyam's resignation and appointing Mr K. G. Vassal as acting Chairman of the mutual fund.

In Science Tribune Today
IN PASSING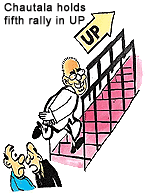 ... and he thought this is shortcut to UP!

by Sandeep Joshi
Who will own the 'Maharaja?'
CCS to decide on Friday
New Delhi, July 4
The question of who will own the "Maharaja" — Hindujas or Tata-Singapore Airlines — would be clear when the Cabinet Committee on Security meets here on Friday to finalise the guidelines for the bidders.
Lashkar attacks Army convoy
Major, jawan among 4 killed
Srinagar, July 4
Pakistan-based Lashkar-e-Toiba today said it carried out an attack on a military convoy in South Kashmir, killing a Major and a jawan and wounding 10 other security personnel. An LeT spokesman said two militants called Abu Osama and Abu Badr took part in the attack on the Jammu-bound Army convoy at 9.30 a.m. at Mirbazar Khanabal in Anantnag district.



Cholera stalks village; 1 dead
Bhiwani, July 4
Cholera has broken out at Palwas village, while it has claimed the life of a child, condition of 12 villagers is quite serious. A team of two doctors sent there has set up a makeshift hospital. Sources said that anti-cholera medicine was being distributed door to door in the village. All wells of the village have been immunised with bleaching powder. The doctors have detected 25 such cases, a spokesman claimed.
Centre warns Jaya govt
July 4, 2001

Karunanidhi not to seek bail
July 3, 2001
Tamil Nadu Governor resigns
July 2, 2001
Karunanidhi held in pre-dawn swoop
July 1, 2001
Flexibility, but no compromise on basics
June 30, 2001
Chohan's remarks unwarranted
June 29, 2001
Punjab caught on sticky wicket
June 28, 2001
Pak army drawing up agenda
June 27, 2001
Radicals to be detained
June 26, 2001
Massive shake-up in IT Dept
June 25, 2001
Amritsar bandh evokes mixed response
June 24, 2001
Musharraf to hold office for 5 years
June 23, 2001