Relatives of disappeared persons weeping at a function organised by the Association of Parents of Disappeared Persons where the foundation stone of a memorial to such persons was laid at Idgah in downtown Srinagar on Wednesday.
— PTI
General Shelton arrives on three-day visit to India
New Delhi, July 18
A US top military official, Gen Henry Shelton, arrived here tonight for talks on regional security issues and to firm up military-to-military contact with India.
In Science Tribune today

USA reviewing curbs on India
Washington, July 18
The USA has said it is reviewing the post-Pokhran sanctions on India and expressed commitment towards "strengthening and intensifying" relations with Delhi.
Blackwill sworn in US envoy to India
Washington, July 18
Mr Robert Blackwill has been sworn in as the US Ambassador to India. US National Security Adviser Condoleezza Rice administered the oath of office to him yesterday.
THE TRIBUNE MAGAZINES
On Mondays

On Sundays
On Saturdays
IN PASSING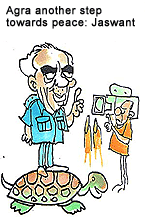 by Sandeep Joshi
Delay in SGPC poll certain
Chandigarh, July 18
The SGPC elections, which should be held well before November 20 this year, will be delayed by six months or so. And it will be a big relief to the ruling SAD-BJP combine, which does not seem to be in a mood to face the poll to the SGPC before the Assembly elections in Punjab.
Flashfloods inundate 2 villages
Ghaggar, Sutlej-Yamuna Link canal breached
Patiala, July 18
A cloudburst which caused torrential rain in the Lalru area two days ago, today caused flashfloods in this district resulting in three breaches in the Ghaggar as well as the Sutlej Yamuna Link canal besides marooning two villages.
5 Punjab colleges get notices
Rights of disabled violated
New Delhi, July 18
The office of the Chief Commissioner for Persons with Disabilities has issued notices to colleges affiliated to Panjab University, Punjabi University and Guru Nanak Dev University for violating the provisions of the Persons with Disabilities (Equal Opportunities, Protection of Rights and Full Participation) Act, 1995.
ICSSR chief Sondhi removed
New Delhi, July 18
The Chairman of Indian Council for Social Science Research, Prof M.L. Sondhi, was today removed from his post with immediate effect.


War widow's hope kindled
Subedar Assa Singh became martyr in 1971
Jammu, July 18
Nirmal Kaur (60) has been waiting for her husband, Subedar Assa Singh, to return home since 1971 despite the fact that she has received a telegram from the Defence Ministry informing her that Assa Singh sacrificed his life while fighting the enemy.
Agra another step towards peace: India
July 18, 2001
Talks collapse, Musharraf leaves for home
July 17, 2001
Parleys constructive, very cordial
July 16, 2001
Resolve Kashmir issue once and for all: Pervez
July 15, 2001
Pak President arrives today
July 14, 2001
No set proposals on J&K: Jaswant
July 13, 2001
NDA not to attend Pak reception
July 12, 2001
30 pc cut in PDS wheat, rice prices
July 11, 2001
Kashmir not sole issue: PM
July 10, 2001
PM to brief all-party meeting today
July 9, 2001
Musharraf softens stand
July 8, 2001