Terrorism is the real issue, Gen Musharraf
Hari Jaisingh
THE Press conference by President Pervez Musharraf at Islamabad on Friday has reconfirmed the impression that his is a one-track mind. This may be advantageous to him as a General but not as a statesman he is desperately trying to project himself to be.
UTI ex-chief remanded in police custody
Mumbai, July 21
Former UTI chief P.S. Subramanyam, Executive Directors M.M. Kapur, S.K. Basu and stock broker Rakesh Mehta were today remanded in police custody till July 27 by a special court here.



P.S. Subramanyam, former Chairman of the UTI, arrives for questioning in Mumbai on Saturday.
— Reuters photo

In Spectrum today
THE TRIBUNE MAGAZINES
On Mondays

On Sundays
On Saturdays
Ajit to get Cabinet berth
New Delhi, July 21
With an eye on the Uttar Pradesh poll, the Prime Minister is slated to expand his Cabinet tomorrow by inducting Rashtriya Lok Dal leader Ajit Singh and grant him a post of Cabinet rank.
IN PASSING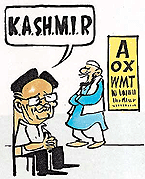 No need to change glasses. Your vision is O.K.!

by Sandeep Joshi
8 on indefinite fast in Manipur
Imphal, July 21
Eight persons began an indefinite fast last evening to protest against the torture of students and Centre-NSCN (I-M) ceasefire extension in Manipur even as massive anti-ceasefire rallies and sit-in protests were reported today amid tight security, official sources said.
6 CRPF jawans killed in Arunachal
Itanagar, July 21
In the worst ceasefire violation in a year, suspected Naga militants killed six paramilitary jawans and seriously injured six others in an ambush in Arunachal Pradesh, a senior police official said today. Security officials blame the National Socialist Council of Nagaland Muivah-Issac faction for the attack.


Liquor from MP finds way into Bathinda
Bathinda, July 21
After Haryana and Rajasthan, liquor has started seeping into this southern district of Punjab from Madhya Pradesh. The trend, which has been gaining ground, has been forcing the police and excise authorities to adopt new strategies to check the menace to prevent loss to the state exchequer.
Kashmir blocked peace: Pervez
July 21, 2001
Structured agenda in future must, says Opposition
July 20, 2001
Forget Agra, India tells Pakistan
July 19, 2001
Agra another step towards peace: India
July 18, 2001
Talks collapse, Musharraf leaves for home
July 17, 2001
Parleys constructive, very cordial
July 16, 2001
Resolve Kashmir issue once and for all: Pervez
July 15, 2001
Pak President arrives today
July 14, 2001
No set proposals on J&K: Jaswant
July 13, 2001
NDA not to attend Pak reception
July 12, 2001