Shekhar cool to SC order
Bhondsi (Gurgaon), July 25
Former Premier Chandra Shekhar reacted to the Supreme Court's order with regard to a 500 acres of land adjoining his Bharat Ekta Kendra, popularly known as "Bhondsi ashram", in this village, saying that the apex court had only said what he had been maintaining that it did belong to the panchayat.
In Science Tribune today
IN PASSING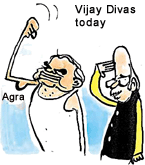 by Sandeep Joshi
Top Hizb militant killed
Srinagar, July 25
A top militant, Commander Masood, deputy chief of the Hizb-ul Mujahideen was killed in an encounter with the Special Operations Group of the Jammu and Kashmir police in Pulwama district yesterday.
Plots got in the name of homeless
Chaura (Patiala), July 25
Houses, guns, government service, cars, tractors and even an odd truck have not deterred people from getting plots in the name of the homeless in this village on the outskirts of the city. This is not all. People who are not residents of the village have also been able to manage plots measuring 100 square yards each.



And now 'Chautala Chalisa'
Rohtak, July 25
INLD workers in Haryana may soon recite "Chautala Chalisa" in their morning prayers along with the "Hanuman Chalisa". A vast majority of INLD supporters are basically followers of Lord Hanuman. However, some partymen have got "Chautala Chalisa" written by a Narwana-based poet. Interestingly, the entire male lineage of Mr Om Prakash Chautala finds mention in it. "Ajay, Abhey do puttar veera, manuj van mein jant do shera".
J&K killings are not jehad: PM
July 25, 2001
47 feared dead as truck falls into canal
July 24, 2001
16 massacred in Kishtwar
July 23, 2001
6 pilgrims among 13 killed in 2 blasts
July 22, 2001
Kashmir blocked peace: Pervez
July 21, 2001
Structured agenda in future must, says Opposition
July 20, 2001
Forget Agra, India tells Pakistan
July 19, 2001
Agra another step towards peace: India
July 18, 2001
Talks collapse, Musharraf leaves for home
July 17, 2001
Parleys constructive, very cordial
July 16, 2001