IN PASSING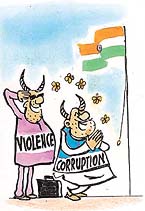 by Sandeep Joshi
Kashmir solution must: Pak
Islamabad, August 14
Pakistan President Pervez Musharraf today said India and Pakistan could not progress without finding an amicable solution to the Kashmir issue and cautioned his countrymen that threat to Pakistan's unity and integrity emanated from extremist elements from within.
Fundamental mistake, historical blunder
Pakistan and terrorism were born together
"A fundamental mistake". That was how Maulana Abdul Kalam Azad, the greatest of India's Muslim leaders, described the Partition of India on October 23, 1947. Many in both countries today agree that Partition was a historical blunder. The Mohajirs in Pakistan also say that it was a mad idea, it was the greatest blunder in history. (Edit page)

Siropa scam at Takht Kesgarh Sahib
Amritsar, August 14
After the purchase of a huge quantity of ration by the management of Takht Kesgarh Sahib from bogus dealers, a scam of purchase of siropas (robes of honour) has come to light. The order of siropas was given to a Jalandhar-based bogus cloth dealer. The four-member inquiry committee constituted by the Shiromani Gurdwara Prabandhak Committee last year has called Dr Gurbachan Singh Bachan, Secretary, to explain his position on August 21 as to why tenders were opened in the absence of members of the Purchase Committee.
Take Brajesh off J&K, Jaswant, Advani tell PM
August 14, 2001

NC leader among 12 killed
August 13, 2001

PM, Advani face Pak ultra threat
August 12, 2001

Loktantrik party pulls out of UP Govt
August 11, 2001

Centre determined to crush proxy war
August 10, 2001

Jammu to be under Disturbed Area Act
August 9, 2001

Ultras open fire at Jammu railway station, kill 9
August 8, 2001

Caravan of peace to Pak will continue: Jaswant
August 7, 2001

Bodies cremated, curfew in Bhaderwah
August 6, 2001

Ultras massacre 17 in Doda
August 5, 2001