THE TRIBUNE MAGAZINES
On Mondays

On Sundays
On Saturdays
Chandigarh, August 16
A sad and visibly disturbed ''Flying Sikh'' Milkha Singh, probably the most celebrated Indian athlete of all times, today refused to accept the Arjuna Award for lifetime contribution, saying: "I have been clubbed with sportspersons who are nowhere near the level that I had achieved".


Milkha Singh addresses a Press conference in Chandigarh on Thursday.
IN PASSING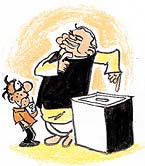 You also liked my I-day speech. Put your suggestions in this box!

by Sandeep Joshi
Punjab Govt on recruitment spree
Chandigarh, August 16
The cash-strapped Punjab Government is on a recruitment spree. It has put its recruitment machinery in a top gear in various government departments. The way the government is moving on the recruitment front, obviously, it wants to fill the vacant posts before the issuance of the notification for the Assembly elections in the state.
Water in Harike barrage rising
Harike (Amritsar), August 16
As the water-level of the Harike barrage, where the Beas and the Sutlej confluence, has been rising, residents of the mand area, especially migrant labourers, have started shifting to safer places.



Wheat worth Rs 16,000 cr stockpiles
Chandigarh, August 16
Punjab is saddled with huge wheat stocks. It is estimated that the combined stock with the state's five procurement agencies is of the order of over 165 lakh tonnes, excluding the one with the Food Corporation of India. The value of this wheat is approximately Rs 16,000 crore, excluding the interest payable on the food credit taken by Punjab from banks, post-procurement costs and other charges the agencies have to pay per annum.
Ultras kill 5 in Udhampur
August 16, 2001

13 killed in HP landslides
August 15, 2001
Take Brajesh off J&K, Jaswant, Advani tell PM
August 14, 2001

NC leader among 12 killed
August 13, 2001

PM, Advani face Pak ultra threat
August 12, 2001

Loktantrik party pulls out of UP Govt
August 11, 2001

Centre determined to crush proxy war
August 10, 2001

Jammu to be under Disturbed Area Act
August 9, 2001

Ultras open fire at Jammu railway station, kill 9
August 8, 2001

Caravan of peace to Pak will continue: Jaswant
August 7, 2001