THE TRIBUNE MAGAZINES
On Mondays

On Sundays
On Saturdays
'Flying Sikh' finds mention in Lok Sabha
New Delhi, August 17
The Lok Sabha today witnessed uproarious scenes when Congress member Jagmit Singh Brar sought a clarification from the government on "Flying Sikh" Milkha Singh's reported charge that Prime Minister's Office was interfering in the selection of sportspersons for the prestigious Arjuna Award.
Taxes on food processing units to go
Ludhiana, August 17
The state government has decided to abolish the local taxes on the food processing industry, following the footsteps of the Central Government that has abolished 16 per cent central excise duty on these industries.
IN PASSING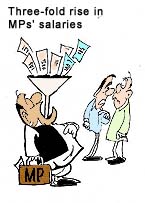 He is saying, Yeh dil mange more!

by Sandeep Joshi
TN Govt not to relieve 3 IPS officials
Chennai, August 17
The rift between the Centre and the Tamil Nadu Government further widened today with Chief Minister Jayalalitha again refusing to release the three IPS officials, including the city police chief, Mr K. Muthukaruppan, whose deputation was sought by the Centre in the wake of their role during the arrest of DMK chief M. Karunanidhi.
Petroleum dealers defer stir
Amritsar, August 17
The countrywide petroleum dealers' strike, which was scheduled from August 20, has been deferred after reaching an agreement between the Ministry of Petroleum and the Federation of the All-India Petroleum Dealers today.


Psychiatric patients cry for care
Shimla, August 17
Om Prakash, a psychiatric patient deserted by his family members, is lying in the General Medicine Ward of Indira Gandhi Medical College, here, for the past two months and waiting to be shifted to Mental Health Institute at Ranchi for treatment. Several requests of doctors for shifting another patient, Rajesh, to Ranchi went futile and he was discharged after six months from the IGMC.
Pak not to raise Kashmir issue at world fora: PM
August 17, 2001

Ultras kill 5 in Udhampur
August 16, 2001

13 killed in HP landslides
August 15, 2001
Take Brajesh off J&K, Jaswant, Advani tell PM
August 14, 2001

NC leader among 12 killed
August 13, 2001

PM, Advani face Pak ultra threat
August 12, 2001

Loktantrik party pulls out of UP Govt
August 11, 2001

Centre determined to crush proxy war
August 10, 2001

Jammu to be under Disturbed Area Act
August 9, 2001

Ultras open fire at Jammu railway station, kill 9
August 8, 2001