THE TRIBUNE MAGAZINES
On Mondays

On Sundays
On Saturdays
Blacklist of Sikh NRIs cut to 50
New Delhi, September 4
In a significant development, the Union Government after constant review of several thousand blacklisted Sikh non-resident Indians settled in the UK, Canada and the USA has slashed the number to just 50 individuals.
Cabinet's no to Uma's proposal
Sports remains on State List
New Delhi, September 4
The controversial Union Sports Minister, Ms Uma Bharati, suffered a serious setback to her ambition of exercising government control over sports bodies when her proposal for shifting sports to the Concurrent List came to nought.
IN PASSING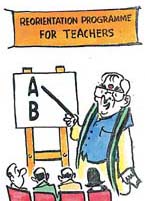 Your students will learn better if you teach A for Ayodhya, B for Babri ...
by Sandeep Joshi
4 medicos held after clash
Shimla, September 4
Four students of Indira Gandhi Medical College here have been arrested following a clash between two groups which led to ransacking of the police post at Sanjauli last night.
Another saga of courage unfolds
Yasoda from Tamil Nadu to receive Neerja Bhanot Award tomorrow


Chandigarh, September 4
After witnessing the prized valour of Alice Garg and Ashamma, the Neerja Bhanot award winners for last year, this year it's time to unfold yet another saga of courage and sacrifice, written by an illiterate Yasoda of a remote Tamil Nadu village, where pain is another synonym for life.
Youths return, their dreams shattered
Sent illegally by agent, they escape their torturers
Bathinda, September 4
"I was made to lie prostrate. The policemen in Eepo jail of Malaysia used to strike leather belts on my back for hours together. I was kicked around, insulted repeatedly and given no food for days," said Sat Pal Singh, an illiterate youth of Dhinger village of this district who came back to India after spending six months under adverse and hostile circumstances in Malaysia.
Lashkar raids Doda Police Lines, SI killed
September 4, 2001

Don't saffronise education, warn
non-BJP states
September 3, 2001

Six new faces in ministry
September 2, 2001

Cabinet reshuffle today
September 1, 2001

Lobbies out to scuttle Bathinda refinery
August 31, 2001

Sinha may be dropped
August 30, 2001

Ultras kill 2 priests, five of family
August 29, 2001

Trinamool Cong, PMK back in NDA
August 28, 2001

Farooq threatens to quit NDA
August 27, 2001

Depoliticise coop institutions: PM
August 26, 2001

Ultras gun down seven cops in Poonch
August 25, 2001