THE TRIBUNE MAGAZINES
On Mondays

On Sundays
On Saturdays
What if Jaya is disqualified: SC
New Delhi, September 5
A five-Judge Constitution Bench of the Supreme Court, hearing the constitutionality of appointment of Ms J. Jayalalitha as Chief Minister of Tamil Nadu, today asked the Attorney-General, Mr Soli J. Sorabjee to address the judges on the consequences in the eventuality of the court holding her appointment to be void ab initio.

5 of family choose death to starvation
Patna, September 5
State government officials here feel proud to announce that Bihar has not a single case of starvation death however, suicide cases driven by extreme poverty and implicit starvation threat have mounted in the state and deaths owing to economic miseries are reported every second-third day.
IN PASSING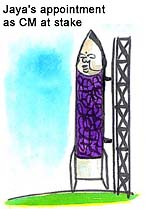 10... 9... 8... 7...

by Sandeep Joshi
NHRC support for Dalits wins plaudits
France, EU threaten to pull out of racism meeting
Durban, September 5
The National Human Rights Commission's support for the inclusion of the Dalit issue, contrary to the government's stand, on the agenda of the ongoing world conference against racism came in for praise by the UNHCR which said for the first time the matter had been highlighted at an international fora.
3 blown to pieces in AP bomb blasts
Nagi chosen as PGI Dean
Chandigarh, September 5
Speculation over the appointment of PGI Dean came to an end today after counsel for the institute placed before the Punjab and Haryana High Court minutes of the 98th meeting of the Governing Body.
Punjab's new property game
Amarinder releases Badal's list
Chandigarh, September 5
The political tit for tat between Mr Parkash Singh Badal and Capt Amarinder Singh took a dramatic turn today when the president of the Punjab Pradesh Congress Committee released a list of property allegedly owned by the Punjab Chief Minister.
SC rejects Jaya's plea on stay
September 5, 2001

Lashkar raids Doda Police Lines, SI killed
September 4, 2001

Don't saffronise education, warn
non-BJP states
September 3, 2001

Six new faces in ministry
September 2, 2001

Cabinet reshuffle today
September 1, 2001

Lobbies out to scuttle Bathinda refinery
August 31, 2001

Sinha may be dropped
August 30, 2001

Ultras kill 2 priests, five of family
August 29, 2001

Trinamool Cong, PMK back in NDA
August 28, 2001

Farooq threatens to quit NDA
August 27, 2001