SNAPSHOT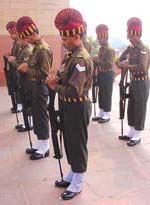 Jawans at Amar Jeevan Jyoti. — Tribune Photo Mukesh Aggarwal
Yet another year in fool's paradise?
New Delhi, January 1
Even as the year gone by had been eventful, there is little cheer for the common man in the Capital. As Delhiites usher in another year of the century amidst war cry in the region, and violence and chaos around the world, they are more bothered about the garbage that stinks outside their homes. They have little to rejoice as they fail to get even potable water. Creature comforts continue to elude the common man.
Lotteries: Hankering after a mirage
Sonepat, January 1
Thousands of people, mostly from the lower classes, have taken to gambling and betting in Sonepat district. Many of them, who dreamt of making a fortune, have turned just beggars.
Tubewell operations in Faridabad privatised
Faridabad, January 1
Close on heels of handing over cleanliness work of the eastern part of the town, the Municipal Corporation of Faridabad (MCF) on Tuesday, handed over the work of operating its water supply tubewells to a private company.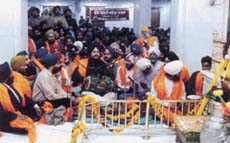 A special kirtan in Bangla Sahib Gurdwara to usher in the New Year.
Vehicle pollution in Capital up 8%
New Delhi, January 1
The vehicular pollution in Delhi has registered an increase in the last decade, which is supplemented by a phenomenal increase in petrol and diesel consumption, a study conducted by Tata Energy Research Institute (TERI), said.
House tax policy mired in controversy
Rohtak, January 1
The 'passage' of the resolution on the new house tax policy, at a recent meeting of the local Municipal Council, has been embroiled in controversy. Srikrishan Kharab and Om Prakash Bagri, Executive Officer and officiating Chairman respectively, of the council claimed that the resolution was passed unanimously at the meeting held on December 28.
NCR BRIEFS
HFC cuts interest rates on loans to industries
Sonepat, January 1
The Haryana Financial Corporation (HFC) has announced a reduction in the interest rates on term loans, advanced to the industrial units in the small-scale sector. According to official sources, the rate of interest for loans up to Rs 25 lakh has been reduced by 0.5 per cent and for loans above Rs 25 lakh, the interest rate has been reduced by 0.25 per cent.
Power generation

Development works

Free operation

Group fracas

Jeweller burgled
'Satya' behind the saga of designing
THINK about Satya Paul, and you are transported to a land of colourful hues. Ties, Sarees, Scarves adroitly designed to coax and lure even the hard to please eye. Not so long ago, three musketeers met.
Babita's collection

Apno Ghar
Journey from Management to music
ARMED with a master's degree in Business Management, this youngster chose to move away from the conventional. Instead of the black and white world of numbers, he stepped into the colourful world of music.