Wednesday, January 2, 2002, Chandigarh, India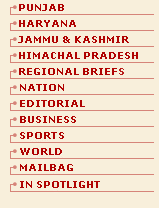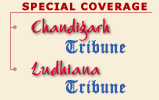 N A T I O N
Snapping of air link to cost Rs 50 crore
New Delhi, January 1
The Ministry of Civil Aviation is to seek more support from the Finance Ministry due to the Rs 50 crore loss which the Indian aviation sector would suffer due to the snapping of the air link with Pakistan, though the neighbouring country will stand to lose about five times more.
Offensive on Pak to be BJP poll plank
New Delhi, January 1
Although the BJP has recently toned down its hakwish posture against Pakistan immediately after the December 13 attack on Parliament House, the party is keen on making all-out efforts to cash in on the anti-Pakistan mood among the people in the coming crucial Assembly elections in Uttar Pradesh, Punjab, Uttaranchal and Manipur.
India, Pak exchange nuke lists
New Delhi, January 1
India and Pakistan today exchanged lists of nuclear installations and facilities for the 11th consecutive year through diplomatic channels in New Delhi and Islamabad.


| | |
| --- | --- |
| | Preparations on for Republic Day at Vijay Chowk on a foggy New Year morning in New Delhi on Tuesday. — PTI |
Uttaranchal poll: Cong may go alone
Dehra Dun, January 1
The Congress is likely to go alone in the coming legislative Assembly elections in Uttaranchal.
No pact with Cong in UP, Punjab: CPM
Dehra Dun, January 1
Parkash Karat, member, CPM politburo, said today that the future of the NDA government was bleak and it would be rooted out from national politics after the coming Assembly elections of Uttar Pradesh, Uttaranchal, Punjab and Manipur.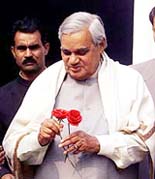 Prime Minister Atal Behari Vajpayee with a pair of roses in his hands given by well-wishers on New Year's Day at his residence in New Delhi on Tuesday. — PTI

IAF fully prepared: Air Chief
January 1, 2002
More evidence of SIMI links with Osama
December 31, 2001
Amended POTO to be repromulgated
December 30, 2001
MPs against turning House into garrison
December 29, 2001
BJP announces poll strategy
December 28, 2001
Another spy with ISI links held
December 27, 2001
Nation greets PM on 78th birthday
December 26, 2001
India not against Pak but terrorism: BJP chief
December 25, 2001
Bihar connection of JeM chief revealed
December 24, 2001
Afzal remanded in police custody
December 23, 2001