IN PASSING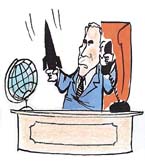 Hello, Mr Vajpayee, show restraint. Don't act in haste as I did.
by Sandeep Joshi
Villagers ready to play soldier
Ferozepore, January 2
"Give us arms, every house in the border belt is a castle, every man will be a soldier". This was stated by Mr Joga Singh, Sarpanch of Mohar Kheeva village which is surrounded by Pakistan from three sides. This village had suffered a colossal damage during the 1965 and 1971 Indo-Pak wars.
Train driver, asst crushed to death
Chandigarh, January 2
A goods train driver and his assistant were crushed to death by another goods train on its way from Chandigarh to Ambala at Dapar near Lalru here tonight.


Fog hits train, air services
Patiala shivers at 2.7°C
Chandigarh, January 2
With cold wave tightening its grip over the entire northwest region on the ninth day today, people in and around Ambala (Haryana) and Jammu, the summer capital of Jammu and Kashmir, shivered as the mercury in the low dropped to 1.8°C the lowest of the season so far. Patiala was the coldest place in Punjab, as the minimum temperature today plummeted to 2.7°C.
10 Pak soldiers killed in Poonch
January 2, 2002

India gives list of 20 terrorists
January 1, 2002

Oppn backs govt steps
December 31, 2001

No means to be spared: PM
December 30, 2001

STD rates slashed by over 60 pc
December 29, 2001

India cuts strength of missions by half
December 28, 2001

Punjab elections on Feb 13
December 27, 2001

30 more Pakistani soldiers killed
December 26, 2001

22 Pak soldiers killed in shelling
December 25, 2001

10 Pak soldiers killed; 15 bunkers destroyed
December 24, 2001