M A I N N E W S
10 Pak soldiers killed in Poonch
16 enemy bunkers destroyed
Tribune News Service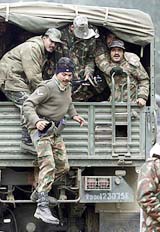 A jawan jumps out of a truck near the Akhnoor sector, 32 km west of Jammu, on Tuesday.
— Reuters photo

Jammu, January 1
In a renewed border conflict, Indian troops destroyed 16 Pakistani bunkers and killed at least 10 Pak soldiers in a fierce gun-battle in the Mandhar area of Poonch early this morning.
Defence Ministry sources said the Pakistan troops resorted to the heavy mortar and artillery fire on the Indian villages and posts in the area since last evening. The Indian forces retaliated and destroyed 16 Pak bunkers killing at least 10 Pak soldiers and injuring several others.
The sources said the Pak guns were silent in Nowshehra and Pallanwala sectors after the Indian troops inflicted heavy casualty and damaged scores of bunkers across the border. However, small arms firing in several areas on this side of the border continued for another day.
As a result of 10-day-long intermittent shelling and firing by the Pak troops in various areas of the Jammu sector about 70,000 persons, living in border villages of Poonch, Rajouri, Akhnoor, R.S. Pora and Samba sectors have migrated to safer places.
In Salotri village and adjoining areas in Poonch, more than 3,000 persons fled to safer places during the past 48 hours. Reports said more than 50 villages, situated close to the border in Poonch, Rajouri and Akhnoor sectors, had been evacuated by the Army to enable them to lay mines and install weapons.
The state government has approached the Centre to release additional funds and foodgrains as relief to the migrants Mr Ghulam Mohiuddin Shah, Acting Chief Minister, has said since the government has neither resources nor surplus foodgrains, it had to bank on the Centre's help.
Several hundred migrants have taken shelter in government school buildings. However, they may face a new problem when these reopen from January 4 after the winter vacations.
In many areas migrants were seen keeping themselves warm by burning bushes. The government has earmarked Rs 50 lakh for relief work, but several thousand migrants have not been covered under any government help.
Meanwhile, a Congress delegation led by Mr Ashok Sharma, MLA, met Mr Shah and demanded better relief measures for the migrants and deployment of additional forces to check militancy in Poonch and Rajo