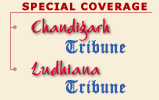 Limited strikes not ruled out
Training camps in Pak likely to be targeted
New Delhi, January 1
Even as the Vajpayee government has launched a diplomatic offensive so that Pakistan moves against terrorist organisations operating from its soil, the possibility of incisive limited strikes through deep intrusions are reportedly being explored as a means of liquidating terrorist camps across the border.
Ultras raid Army range in Himachal
Two jawans killed, four wounded
Damtal (Nurpur), January 1
Two Army personnel were killed and four others critically wounded, when militants opened fire on them at an Army firing range near Damtal on the Punjab and Himachal Pradesh border this morning.
Lashkar men gun down six of family
Jammu, January 1
An infant and an eight-year-old boy were among the six persons of a Hindu family killed in a gruesome massacre by gun wielding Lashkar-e-Toiba militants in a village in the border district of Poonch, official sources said today.