IN PASSING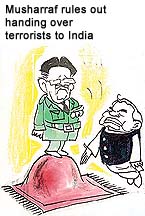 What more proof does Pakistan want?
by Sandeep Joshi
Quake jolts Afghanistan, Pak, India
Kabul, January 3
An earthquake today shook parts of Afghanistan and Pakistan, rattling windows and sending frightened residents running out of their homes.
2 jawans killed in ambush
Jammu, January 3
Heavily armed militants ambushed an Army convoy killing two jawans and injuring seven others, three of them critically at Darhal, 200 km from here, late last night, official sources said today. The convoy was moving from a remote area to Rajouri when the militants attacked it, they said.
Ambala coldest at 2.3° C
Chandigarh, January 3
Fog played spoilsport again today causing disruptions in rail, road and air traffic for over a week in the northern region as cold wave showed little signs to abate and further tightened its grip at several places in Punjab, Haryana, Himachal Pradesh and Jammu and Kashmir, but the maximum temperatures increased by a few degrees providing some relief to the people from biting cold.
How Osama was smuggled into Pakistan
January 3, 2002

10 Pak soldiers killed in Poonch
January 2, 2002

India gives list of 20 terrorists
January 1, 2002

Oppn backs govt steps
December 31, 2001

No means to be spared: PM
December 30, 2001

STD rates slashed by over 60 pc
December 29, 2001

India cuts strength of missions by half
December 28, 2001

Punjab elections on Feb 13
December 27, 2001

30 more Pakistani soldiers killed
December 26, 2001

22 Pak soldiers killed in shelling
December 25, 2001