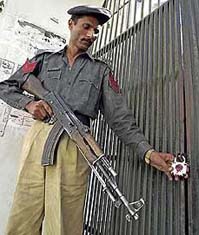 A policeman shows a padlocked gate at an office of a religious party, Tehrik-e-Jafria, on Sunday in Karachi. — AP/PTI photo
Pak arrests 2,000 ultras
ISI to join hands with cops
Islamabad January 13
Nearly 2,000 activists of the five hardline Islamic groups which were banned last night by President Pervez Musharraf in his televised address to the nation, were arrested from various parts of Pakistan.
Pak yet to raze terrorist camps
Jammu, January 13
Contrary to its claims, Pakistan has not dismantled even a single terrorist training camp in the occupied-Kashmir and instead has released all second-rung leaders of the Jaish-e-Mohammad and Lashkar-e-Toiba who were nabbed after the December 13 attack.
Kashmiri separatists happy over address
Jammu, January 13
Pakistan President, Gen Pervez Musharraf's pledge to come down heavily on religious extremist groups, which included his decision to ban the Lashkar-e-Toiba and Jash-e-Mohammad, speaks about him being a moderate, modern and liberal Muslim leader of a theocratic country.
Beyond the struggle against terrorism

"The terrorist attacks on September 11 were just as much a manifestation of this globalisation and interdependence as the explosion of economic growth." This is how former US President Bill Clinton looks at the tragedy. He has written an extensive article on the subject which appears on the Edit page.
In Agriculture Tribune today