THE TRIBUNE MAGAZINES
On Mondays

On Sundays
On Saturdays

IN PASSING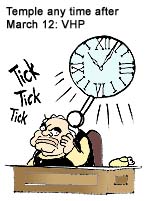 by Sandeep Joshi
SAD objects to Cong ads
To seek action from Election Commission
Badal (Muktsar), January 30
Following personal attacks being made against a section of the Shiromani Akali Dal leadership, including the Punjab Chief Minister, Mr Parkash Singh Badal, by the Congress leadership, the SAD has decided to approach the Election Commission for action against the violators of the model code of conduct.
Govt unveils export strategy
New Delhi, January 30
The government today unveiled a medium-term export strategy that aims to capture at least 1 per cent of the global trade in the next five years or around $ 80.48 billion worth of exports by 2006-07.
Temple issue: VHP's defiance worries BJP
New Delhi, January 30
The BJP leadership, including Prime Minister Atal Behari Vajpayee, is in a bind over the Vishwa Hindu Parishad's tough posture on construction of Ram temple after March 12 this year.


Tribune exclusive
Haryana plans POTO-type Act to muzzle the Press
Chandigarh, January 30
"The passing on or publication of without any lawful authority, any information likely to assist the organised crime syndicate and the passing on or publication of or distribution of any document or matter obtained from the organised crime syndicate..."
3 holed-up Pak ultras shot
January 30, 2002

Two Pakistanis shot dead
January 29, 2002

Ayodhya issue: ball in Law Minister's court
January 28, 2002


Short-range Agni missile test-fired
January 26, 2002


CM rules out FBI probe into blast
January 25, 2002

Kolkata attack: no breakthrough yet
January 24, 2002

US Information Center in Kolkata attacked
January 23, 2002

Send list, we will act fast, Pak told
January 22, 2002

Troops to stay till Pak delivers
January 21, 2002