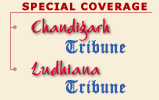 Minister's kin opens fire, 1 dead
Bandh in Bhikhiwind
Bhikhiwind, February 6
One migrant, Ali Sher Khan, a resident of Uttar Pradesh, was killed on the spot while two sustained injuries when Gurpartap Singh Kairon, brother of Mr Adeshpartap Singh Kairon, who is a candidate of the ruling Akali Dal and son-in-law of Mr Parkash Singh Badal, Chief Minister and two others allegedly opened fire in front of the police station here this afternoon.


Amarinder condemns killing



A view of the protest dharna, traffic jam at Bhikiwind (Amritsar) after a firing incident in which one person was killed.
— Photo Rajiv Sharma
5 Jaish ultras gunned down
Srinagar, February 6
Five ultras of the Jaish-e-Mohammad, one of them a district commander, were killed in an encounter with the security forces at Khori forests in the Lolab area of Kupwara district today.