Friday, February 15, 2002, Chandigarh, India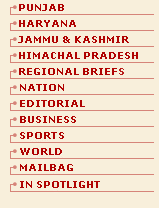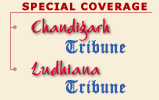 M A I N N E W S
Officer 'disappears' with EVM, repoll ordered
Tribune News Service
Chandigarh, February 14
There will be a re-poll in one booth (number 63) of the Valtoha Assembly constituency of Amritsar district. The date is yet to be announced. The booth is in Punia village. There are 1,185 voters.
The Additional Chief Electoral Officer, Mrs Usha R. Sharma, said this was necessitated because the presiding officer there had ''disappeared'' with the electronic voting machine itself. When he was traced late at night, the EVM was found ''tampered with''. A case had been registered against the presiding officer, who had since been arrested. The polling officers concerned had also been booked.
Meanwhile, the overall poll percentage for the state, officially reported, was 65.67. The district-wise polling percentage figures are as follows:
Gurdaspur 68.42; Amritsar 60.07; Jalandhar 60.97; Nawanshahr—69.70; Kapurthala 63.60; Hoshiarpur 64.18; Ludhiana 58.52; Ropar 65.75; Patiala 66.62; Fatehgarh Sahib 69.64; Sangrur 72.63; Ferozepore 69.96; Moga 62.42; Faridkot 71.09; Muktsar 72.51; Bathinda 68.31; and Mansa 67.11.
The highest polling — 79.25 per cent — was in the Budhlada constituency in Mansa district, while the lowest — 42.60 per cent — was in Ludhiana Rural. A perusal of the constituency-wise polling percentages reveals that in 43 segments it was over 70, in 50 over 60, in 14 over 50 and in nine over 40. It is normally presumed that a higher poll percentage in the rural areas favours the Akalis and a higher percentage in urban constituencies favours the Congress. But, as reported earlier, the response of voters in the three regions (Majha, Doaba and Malwa) may not be ''traditionally'' in favour of the Akalis and the Congress. It is a mixed bag, say observers. The rural poll percentage is invariably around 5 per cent more than the urban voting percentage.