Plague spreads to Uttaranchal
Two more deaths reported
Shimla, February 14
After the Rohru area of Himachal Pradesh, the fatal pneumonic plague has spread to the neighbouring Uttaranchal where it claimed the life of a young woman, Pushpa, today.
In Arts Tribune today
THE TRIBUNE MAGAZINES
On Mondays

On Sundays
On Saturdays

IN PASSING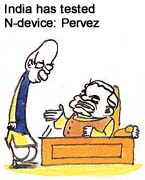 Shall we ask General Musharraf what we are going to do tomorrow?

by Sandeep Joshi
3 members boycott interview
Sore at PPSC Chairman's functioning
Patiala, February 14
Three members of the Punjab Public Service Commission today abstained from the interview held to select Block Development and Panchayat Officers to protest against the ''manner'' in which the PPSC was being run by its Chairman Ravinderpal Singh Sidhu.
Country liquor to cost less in Haryana
Chandigarh, February 14
Country liquor will become cheaper in Haryana as the new excise policy of the state, approved at a meeting of the Cabinet here today held under the chairmanship of the Chief Minister, Mr Om Prakash Chautala, brought down excise duty on such liquor from Rs 21 per proof litre to Rs 11. An official release said that the duty was reduced "to minimise smuggling from neighbouring states".
Bonfires of cards mark Valentine's Day
New Delhi, February 14
Eight Shiv Sena activists were detained even as hundreds of them opposed the Valentine's Day celebrations in the Capital today by lighting bonfires of greeting cards and distributing handbills urging people not to celebrate the "western festival" of love.


Creating artificial wombs
London, February 14
Doctors are developing artificial wombs in which embryos can grow outside a woman's body. The work has been hailed as a breakthrough in treating the childless. Scientists have created prototypes made out of cells extracted from women's bodies. Embryos successfully attached themselves to the walls of these laboratory wombs and began to grow.
Violence marks polling in Punjab
February 14, 2002

Flag marches in Punjab on poll eve
February 13, 2002

No referendum on govt: PM
February 12, 2002

Temple construction from March 15
February 11, 2002

Ansari held in UAE, brought to Delhi
February 10, 2002

No deal on N-subs
February 9, 2002

Defence scams insult to soldiers: Sonia
February 8, 2002

Don't rake up coffin issue: PM
February 7, 2002

We'll fulfil vows: Sonia
February 6, 2002

Holed-up ultras surrender
February 5, 2002

PM's no to convert LoC into border
February 4, 2002