Tuesday, March 19, 2002, Chandigarh, India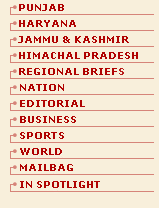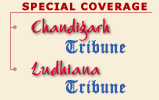 B U S I N E S S
RBI predicts 6.5 pc growth
New Delhi, March 18
The Governor of the RBI, Dr Bimal Jalan, today painted an optimistic picture and said the economy would grow by 6 to 6.5 per cent in the next fiscal ( 2002-03) and by about 7 per cent in the next four to five years.


In video (28k, 56k)
NRIs to launch airline by Sept
Chandigarh, March 18
A group of 20 US-based Non-Resident Indians (NRIs) led by a former pilot of Indian Airlines, Capt Rajiv Jha, have decided to put on air map of India a new private airline by September this year.


Indians to be barred from computer jobs
Washington, March 18
The US government's move to bar non-US citizens from a wide range of computer jobs has spurred demands from labour unions to ban the practice of communications companies training foreign workers, especially from India and China, in technical network provisioning and maintenance.
Punjab, Nestle to join hands
Patiala, March 18
The Punjab Government is considering a joint prospect with Nestle India to improve milk yielding potential of the state's cattle population by adopting the latest technological packages, including embryo transplants.
Probe defence supplies, say hosiery units
Ludhiana, March 18
The Northern India Hosiery and Textile Manufacturers' Association in a memorandum submitted to George Fernandes, has asked for an enquiry into defence supplies scandal worth more than Rs 100 crore annually.
More options in life insurance
March 18, 2002
Sinha sees signs of economic recovery
March 17, 2002
OPEC agrees to cap oil output
March 16, 2002
Passengers should be paid for delay
March 15, 2002
Savings scheme for employees in offing
March 14, 2002
Treaty brings relief for vanaspati industry
March 13, 2002
Industrial growth dips to 3.2 pc
March 12, 2002
Tax implications of the Budget
March 11, 2002
No move to raise cap in insurance
March 10, 2002
Guidelines for marketing of fuels notified
March 9, 2002
New Auto Policy unveiled
March 8, 2002