Rein in VHP, say allies
New Delhi, March 19
There is a growing feeling in the BJP-led NDA government that VHP activists and other elements of the Sangh Parivar are going out of control and need to be reined in expeditiously.
Let's talk, PM tells allies
New Delhi, March 19
In an indirect message to the allies, Prime Minister Atal Behari Vajpayee today said all contentious issues among the coalition partners of the NDA needed to be sorted out through discussion.
Pak expels 2 Indian diplomats
New Delhi, March 19
In a typical diplomatic tit for tat, Pakistan today declared two Indian diplomats in the Indian High Commission in Islamabad as persona non grata and asked them to leave the country by March 26, a spokesperson for the Ministry of External Affairs confirmed today.
In Health Tribune today

THE TRIBUNE MAGAZINES
On Mondays

On Sundays
On Saturdays

IN PASSING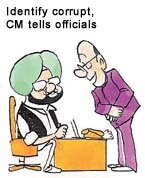 Captain sa'ab, can we send teams to the USA, the UK and France to study corruption cases?

by Sandeep Joshi
2 holed-up militants shot
Siege of mosque ends
Srinagar, March 19
Two militants, including the self-syled divisional commander of the Pakistan-based Harkat-ul-Mujahideen (HuM), holed up in a mosque were killed by the troops today, ending a nearly 14-hour-long stand-off in Baramula district of north Kashmir, defence sources said.


In video (28k, 56k)

4 pc DA hike for Central staff
New Delhi, March 19
The government today announced a Rs 1831.20-crore bonanza for its existing and retired employees by way of an increased dearness allowance with effect from January and upgraded pay scales for senior teachers of primary schools.
When Amarinder refused to meet VC
Chandigarh, March 19
Making an interesting revelation, the Punjab Chief Minister, Capt Amarinder Singh, said here today that the Vice-Chancellor of Punjabi University, Mr Jasbir Singh Ahluwalia, had approached him through an emissary to personally submit his resignation and surrender before him (CM) two days ago.


Pension to kin of war heroes to go
Ludhiana, March 19
Hundreds, of kin of the 1965 and 1971 Indo-Pak war heroes, along with several decorated soldiers in the state, are a disturbed lot following the maturity of a controversial three-decades old order of the Punjab Government that the monthly grant or pension paid to them would be given for 30 years, only. The orders, limiting the value of the sacrifice of Param vir Chakra and Vir Chakra winners to 30 years, were issued by the Chief Secretary Punjab in February 1972.
Godhra carnage mastermind held
March 18, 2002

Flareup claims 5 lives in Gujarat
March 17, 2002

Shila daan at akhara
March 16, 2002

SC clarifies Ayodhya order
March 15, 2002

SC orders status quo in Ayodhya
March 14, 2002

Major climbdown by VHP
March 13, 2002

No puja till SC verdict: PM
March 12, 2002

CRPF flag march in Ayodhya
March 11, 2002

Advani spells out terms for talks with Pak
March 10, 2002

Godhra moves all-party team
March 9, 2002